Onyeali-Ikpe, Olusanya make top 10 on 2023 definitive list of women CEOs
Onyeali-Ikpe, Olusanya make top 10 on 2023 definitive list of women CEOs
The third annual Africa.com Definitive List of Women Chief Executive Officers (CEOs) was revealed on April 19.
Nneka Onyeali-Ikpe, Managing Director/CEO, Fidelity Bank Plc and Miriam Chidiebele Olusanya, Managing Director, Guaranty Trust Bank made the top 10 list. Both companies are listed on the Nigerian Exchange Limited (NGX).
The list is unique in that it is based on data-driven research. Sponsored by Standard Bank Group, it represents one of the first analyses of the performance of publicly listed companies in Africa conducted through a gender lens.
This year's list of 93 women represents 17 countries that have qualified based on either large-scale revenue or large-scale market capitalization.
BusinessDay check shows the list includes 40 women from South Africa, 12 from Nigeria, and 6 from Egypt, Ghana, and Kenya respectively.
Africa.com analyzed 2,020 companies listed on the 24 African stock exchanges. Of the 2,020 companies, Africa.com screened for those companies with revenue of $100 million or more, or a market cap of $150 million or more, which yielded a list of 787 companies.
The public websites of all 787 companies were examined to identify female C-suite executives. The team then researched each woman to determine those who have the title of chief executive officer or managing director or president AND conducted a review to confirm that these executives have a bottom line, profit, and loss responsibility for the companies. This resulted in 40 women CEOs in group 1.
The methodology for Group 2 is identical to the methodology for Group 1, except that the entities evaluated were the divisions of the 787 companies, such that the divisions themselves have standalone revenue of $100 million or more.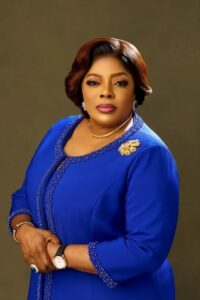 The women running these divisions must have a title that clearly demonstrates that they are the chief executive with profit and loss responsibility for the division. This analysis yielded 28 women division heads.
Group 3 started with an analysis of global corporations with revenue over $10 billion that have operations in one or more countries on the African continent.
The regional heads of these companies were analyzed to identify women executives for an African region or an African country, with profit and loss responsibility for the country or region. This analysis yielded 25 women. Women in this group are ranked by prioritizing those who run the African region ahead of those who run a single African country.
The three groups make up the final Definitive List of 93 women listed below. The 40 women from Group I are; Natascha Viljoen, CEO, of Anglo American Plc, a company listed on the Johannesburg Stock Exchange; Nompumelelo Zikalala, CEO, of Kumba Iron Ore Ltd, also listed on the Johannesburg Stock Exchange. Others are: Mpumi Madisa, CEO, of Bidvest Group, a Johannesburg Stock Exchange-listed company; Bertina Engelbrecht, CEO, of Clicks Group Ltd, which is also listed on the Johannesburg Stock Exchange.
Also on the top 10 list include Nombasa Tsengwa, CEO, of Exxaro Resources, listed on the Johannesburg Stock Exchange; Albertinah Kekana, CEO, Royal Bafokeng Holdings, listed on the Johannesburg Stock Exchange; Jane Karuku, Group Managing Director & CEO, East African Breweries, listed on Nairobi Stock Exchange; Ntombi Felicia Msiza, CEO, Raubex Group Ltd, listed on the Johannesburg Stock Exchange, Africa.com is a media holding company with an extensive array of platforms that reach a global audience interested in African content and community.
Stanbic IBTC Asset Management named Asset Management Company of the Year 2023
Stanbic IBTC Asset Management, a subsidiary of Stanbic IBTC Holdings, has been recognised as the "Asset Management Company of the Year 2023" by Global Banking & Finance Review and as the "Best Asset Management Company, Nigeria 2023" and "Best Mutual Funds Provider, Nigeria 2023 by Global Brands Magazine.
These awards celebrate Stanbic IBTC Asset Management's exceptional achievements, commitment, and dedication to providing its clients with innovative and effective asset management solutions.
Busola Jejelowo, Chief Executive, Stanbic IBTC Asset Management dedicated the awards to Stanbic IBTC Asset Management's valuable customers and stakeholders across the country. She thanked them for choosing Stanbic IBTC Asset Management as their investment partner of choice and further emphasised that: "the company remains committed to delivering its business objective of helping clients secure their financial future by providing innovative and tailored investment solutions that stand the test of time".
According to her, "Stanbic IBTC Asset Management's success closely aligns with the pedigree of its parent company, Stanbic IBTC Holdings, a member of Standard Bank Group, Africa's largest financial institution by assets. This membership has provided us with access to international expertise, enabling us to offer world-class investment solutions to our clients, and continuously grow their wealth. Our recent achievement of successfully surpassing the monumental milestone of N1 trillion Assets Under Management threshold is a testament to our pedigree and customer trust over the years".
As previous recipients of the Asset Management Company of the Year 2020 award by Global Banking and Finance Review, the Best Asset Management Company and Best Mutual Fund Provider, Nigeria 2021 awards by Global Magazine, Stanbic IBTC's success has been attributed to the commitment of the company to meeting the investment needs of its clients. This observation was embodied in remarks by Busola as she further expressed excitement and appreciation for the recognition.
Stanbic IBTC Asset Management has consistently offered a wide range of investment products and services tailored to its client's unique financial goals and objectives. Their team of experienced professionals is dedicated to helping clients achieve their financial aspirations, whether it is wealth preservation, portfolio growth, or diversified foreign exchange investment.
Stanbic IBTC Asset Management unwavering focus on innovation, expertise and client trust underscores its position as the leading asset management firm delivering exceptional financial services and advisory to the Nigerian market.
For more information about Stanbic IBTC Asset Management and its services, please visit www.stanbicibtcassetmanagement.com or send an email to [email protected].
Unity Bank Records N38.2 Billion Gross Earnings in Q3'23
LAGOS.3.11.2023. Retail lender, Unity Bank Plc has recorded gross earnings of N38 billion for the nine-month period ended September 30, 2023, with customer deposits appreciating by 5% to N344.4 billion within the period, an indication of business growth and customer confidence in the Bank. 
A review of the lender's unaudited nine-month results released to the Nigerian Exchange Group Limited showed that the Bank continued to maintain its expansionary and customer-centric model with total loans and advances rising to N222.8 billion, even as interest and similar income stood at N33 billion, which underscores the Bank's strategic focus to reinvigorate and sustain asset creation that will deliver returns to shareholders.
Other key highlights of the 9-month financials include the total assets which stood at N423.4 billion; net fee and income commission, N4.4 billion within the period. However, the recent FX regulation impacted the Bank's bottom line, a situation that can be reversed as the Naira appreciates.
Commenting on the result, the Managing Director/CEO of Unity Bank Plc, Mrs. Tomi Somefun said that the Bank is focusing on its efforts to recapitalize the institution, aggressively drive asset creation, innovate with products to compete favourably in new markets and relentlessly drive pursuit of digital Banking innovation in order to shake off and completely reverse negative positions.
READ ALSO: UNION BANK RECEIVES PRESTIGIOUS AWARD; RECOGNISED BY EUROMONEY AS NIGERIA'S LEADING BANK IN DIVERSITY AND INCLUSION
She stated that despite the tough operating environment, the deposit position continues to witness steady appreciation which supports the business as the Bank drives initiatives to ramp up transactions as part of its strategy for the short and medium term.
"This also means that the Bank enjoys market confidence which will enable the institution thrive better in the months ahead with increased business conversion, profitability and growth needed to achieve sustainable returns," she said.
Added to the above, Somefun also stated that "the Bank is seeing encouraging uptake in its digital Banking services and with expansion envisaged in the pursuit of enhanced retail franchise, fintech partnership, consumer banking and other innovative retail loans as well as diversification of portfolio investment, the outlook remains one of optimism''.
Analysts expressed the confidence that re-engaging the market in the short and medium term by deepening the retail end of the market as part of the business strategy will drive more income streams to boost both market share and financial position in the days ahead.
Fidelity Bank boosts Nigeria's Non-oil Exports with FITCC Houston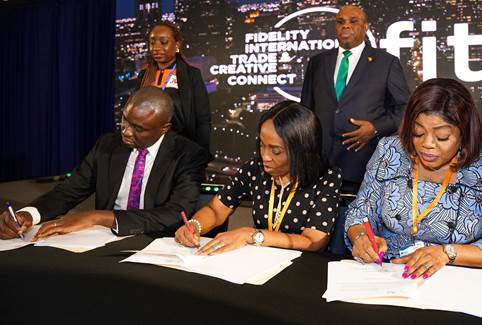 The much-anticipated second edition of the Fidelity International Trade and Creative Connect (FITCC) got off to a boisterous start on Tuesday, 24 October 2023 as leading financial institution -Fidelity Bank Plc -hosted a broad range of businesses, regulators, members of the diplomatic corps and other guests to the opening ceremony in Houston, Texas, United States of America.
Tagged FITCC Houston, the two-day event is aimed at achieving several objectives including increasing the pipeline of Nigerian businesses that export into the US market, providing the diaspora market with more ethnic product options, and enabling exporters to build capacity to improve product quality and meet international standards.
Welcoming participants to the event, MD/CEO, of Fidelity Bank Plc, Mrs. Nneka Onyeali-Ikpe, said, "Developments on the global scene have necessitated the need to constantly seek viable alternatives as businesses work to stay competitive in a rapidly evolving macro-economic environment. On the supply side, businesses are waking up to the imperative of catering to an international customer base in order to hedge against currency devaluation risks, increase the reach of their products, and to ultimately ensure the long-term sustainability of their ventures. Indeed, globalization has emphasized the need for businesses to improve in terms of cross-border offerings and collaborations.
"To bridge these gaps, we created the Fidelity International Trade & Creative Connect (FITCC) in 2022 and hosted the inaugural edition of the expo in London last November. At the event, we had over 100 Nigerian businesses connected to United Kingdom business counterparts, and deals worth about 200 million dollars closed on the spot and post-event.
This year, we are taking it a notch higher as we aim to close deals worth about 250 million dollars. We have therefore put in place an elaborate experience to help stakeholders achieve this and several other objectives at this expo.
Following the welcome address, keynote and goodwill addresses were presented by the President & Chairman of the Board of Directors of African Export–Import Bank (Afreximbank), Professor Benedict Oramah; and Nigeria's Ambassador to the United States of America, Dr. Uzoma Emenike respectively.
READ ALSO: We are in this race to bring back the glory of Edo State – Paul Obazele
A key part of the event was the exhibition which featured more than 160 Nigeria and US-based businesses active in the fintech, commodities, fashion, cosmetics, service, creative, agriculture, and extractive industries in the non-oil sector.
One of the exhibitors and the Founder/CEO, of Oriki Spa, Joyce Awosika said, "We look forward to meeting all our amazing customers and we promise them an impactful experience with our products that would leave a lasting impression. We urge them to join us at booth 520 here at FITCC Houston."
The expo also featured the signing of a $ 40 million pre-export finance facility in favor of JohnVents Industries -one of the exhibitors at the expo. The loan, which has been adjudged as a landmark development by analysts in the export space -would be provided by AFREXIM Bank with Fidelity Bank acting as the local administrative agent.
"We are delighted to participate in the tripartite loan signing ceremony as it demonstrates the size of the opportunity in the Nigerian cocoa market and its potential to meet the demand of off-takers in the US. The ceremony also highlights the value of our partnership with AFREXIM Bank especially in providing much-needed credit to last-mile beneficiaries to upscale their operations and cater to a global market.
These align with our objectives for FITCC and we are thrilled to host the formal deal signing event here", commented an elated Mrs. Onyeali-Ikpe in a chat with journalists at the event.
Day 1 of FITCC Houston closed out with a fashion show dedicated to unique Nigerian pieces. Themed, "The Connect Plus Fashion Show", the event featured elegantly styled-models adorning distinctive and culturally inspired designs from several Nigerian labels including Bijelly Couture, Eclectic Chique and MODChic. The fashion show also provided networking opportunities for guests and participants.
Ranked as one of the best banks in Nigeria, Fidelity Bank is a full-fledged customer commercial bank with over 8 million customers serviced across its 251 business offices in Nigeria and the United Kingdom as well as on digital banking channels.
The bank was recognized as the Best Payment Solution Provider Nigeria 2023 and Best SME Bank Nigeria 2022 by the Global Banking and Finance Awards. The bank has also won awards for the "Fastest Growing Bank" and "MSME & Entrepreneurship Financing Bank of the Year" at the 2021 BusinessDay Banks and Other Financial Institutions (BAFI) Awards.