Nigeria Supreme Court Under Fire for Judicial Banditry and Corruption
Naijanews – In a farewell ceremony held in Abuja, retiring Justice Muhammad Dattijo delivered a poignant critique of Nigeria Supreme Court, shedding light on the pervasive bribery and perversion of justice that has tarnished the institution's reputation.
His remarks echoed those of former Justice Oludotun Adefope-Okojie, who retired earlier this year, further highlighting the deep-rooted corruption within the upper echelons of the Nigerian judiciary.
As public anger intensifies, questions arise about the court's ability to deliver impartial justice and protect the nation from collapse.
The Judiciary's Descent from Grace
Justice Dattijo expressed his concern over the judiciary's descent from grace, questioning whether the esteemed title of "Honourable Justice" still holds meaning.
He lamented the denigration of the Apex Court, which has been labeled a group of purchasable judicial bandits by a prominent social commentator.
This alarming state of affairs raises crucial questions about how the judiciary reached this point and why the public fears unpredictable judicial pronouncements.
Urgent introspection and a comprehensive overhaul are necessary to restore public confidence.
MORE NEWS:
Nigerian Supreme Court sidesteps Bola Tinubu's certificate forgery, affirms president's 2023 election victory
How a 14-Year-Old's Soap Invention Could Save Millions of Lives from Skin Cancer
The Supreme Court's Controversial Decision
The Supreme Court's recent decision to allow President Bola Tinubu to remain in office despite his violation of the Constitution has further fueled public criticism.
President Tinubu presented a forged academic document to the Independent National Electoral Commission, a clear contravention of Section 137 (1)(j) of the 1999 Constitution.
Despite overwhelming evidence, the court sidestepped the forgery issue, claiming that the evidence was presented too late.
This decision, seen by many as evidence of capture, has raised serious doubts about the court's commitment to upholding the rule of law.
Concerns about Judicial Integrity
Justice Dattijo's remarks also shed light on concerns surrounding the integrity of judges and justices.
He questioned the increasing trend of children and spouses of judicial officers joining the bench, raising doubts about nepotism and potential conflicts of interest.
Chief Justice Kayode Ariwoola, who was present at the event, faced criticism when his colleague highlighted his son's induction into the Nigerian judiciary and his suspicious trip to meet President Tinubu in London.
These incidents, coupled with the chief justice's previous expressions of disdain for public opinion and alleged partisan statements, further erode public trust in the judiciary.
All You Need To Know
Justice Dattijo's scathing critique of Nigeria's Supreme Court exposes a deeply troubling reality of corruption and a loss of public trust.
The judiciary's descent from grace, coupled with controversial decisions and concerns about judicial integrity, demands immediate attention and reform.
As Nigerians intensify their criticism, it is crucial for the judiciary to restore its credibility, uphold the rule of law, and regain the confidence of the Nigerian people.
Only through a comprehensive rethink and hard reset can the Supreme Court reclaim its rightful place as the guardian of justice in Nigeria.
Full List Of Private Universities In Nigeria Approved By NUC
Naijanewsngr brings you an exclusive report on the latest findings from the National Universities Commission (NUC), the esteemed regulatory authority overseeing universities in Nigeria.
According to the data extracted from the NUC's website, the nation currently boasts a total of 147 private universities strategically distributed across the 36 states and the Federal Capital Territory.
The surge in the quest for high-quality university education appears to be a direct response to the challenges posed by industrial crises and the persistent issues of inadequate funding within the public tertiary education sector.
This growing demand has paved the way for a notable increase in the establishment of private universities in the country.
In a noteworthy development, spanning from January 1, 2023, to June 27, 2023, the NUC has granted provisional licenses to an impressive count of 37 new private universities.
This trend reflects a dynamic landscape in the Nigerian higher education sector, signaling a shift towards private institutions as key players in meeting the escalating demand for superior educational opportunities.
Highlighted below are the 147 private universities in Nigeria as approved by the NUC.
1. Babcock University, Ogun State
2. Madonna University, Anambra State
3. Igbinedion University, Edo State
4. Bowen University, Osun State
5. Benson Idahosa University, Edo state
6. Covenant University, Ogun state
7. Pan-Atlantic University, Lagos State
8. American University of Nigeria, Adamawa State
9. Ajayi Crowther University, Oyo State
10. Al-Hikmah University, Ilorin, Kwara State
11. AI-Qalam University, Katsina, Katsina State
12. Bells University of Technology, Otta, Ogun State
13. Bingham University, New-Karu, Nasarawa State
14. Caritas University, Enugu, Enugu State
15. Crawford University, Igbesa, Ogun State
16. Crescent University, Abeokuta, Ogun State
17. Lead City University, Ibadan, Oyo State
18. Kwararafa University, Wukari, Taraba State
19. Redeemer's University, Mowe, Ogun State
20. Renaissance University, Enugu, Enugu State
21. University of Mkar, Mkar, Benue State
22. Novena University, Ogume, Delta State
23. Joseph Ayo Babalola University, Ikeji-Arakeji, Osun State
24. Veritas University, Abuja, FCT
25. Achievers University, Owo, Ondo State
26. African University of Science & Technology, Abuja
27. Caleb University, Imota, Lagos State
28. Fountain University, Oshogbo, Osun State
29. Obong University, Obong Ntak, Akwa Ibom State
30. Tansian University, Umunya, Anambra State
31. Wesley University of Science & Technology, Ondo State
32. Western Delta University, Oghara, Delta State
33. Salem University, Lokoja, Kogi State
34. Afe Babalola University, Ado-Ekiti – Ekiti State
35. Godfrey Okoye University, Ugwuomu-Nike, Enugu State
36. Nigerian-Turkish Nile University, FCT Abuja
37. Oduduwa University, Ipetumodu, Osun State
38. Paul University, Awka, Anambra State
39. Rhema University, Obama-Asa, Rivers State
40 Wellspring University, Evbuobanosa, Edo State
41. Adeleke University, Ede, Osun State
42. Baze University, FCT Abuja
43. Landmark University, Omu-Aran, Kwara State
44. Glorious Vision University (formerly Samuel Adegboyega University), Ogwa, Edo State
45. McPherson University, Seriki Sotayo, Ajebo, Ogun State
46. Elizade University, Ilara-Mokin, Ondo State
47. Southwestern University, Oku Owa, Ogun State
48. Evangel University, Ebonyi State
49. Gregory University, Uturu, Abia State
50. Augustine University, Ilara, Lagos State
51. Chrisland University, Owode, Ogun State
52. Christopher University, Mowe, Ogun State
53. Hallmark University, Ijebu-Itele, Ogun State
54. Kings University Ode-Omu, Osun State
55. Michael & Cecilia Ibru University, Owhode, Delta State
56. Mountain Top University, Makogi/Oba, Ogun State
57. Ritman University, Ikot Ekpene, Akwalbom State
58. Summit University, Offa, Kwara State
59. Edwin Clark University, Kiagbodo, Delta State
60. Hezekiah University, Umudi, Imo State
61. Anchor University, Ayobo, Lagos State
62. Arthur Jarvis University, Akpabuyo, Cross River State
63. Clifford University, Abia State
64. Coal City University, Enugu state
65. Ojaja University, Ilorin, Kwara state
66. Dominican University, Ibadan, Oyo State
67. Kola Daisi University., Ibadan, Oyo State
68. Legacy University, Okija, Anambra State
69. Spiritan University, Neochi, Abia State
70. Precious Cornerstone, Ibadan, Oyo State
71. PAMO University of Medical Sciences, Port-Harcourt, Rivers State
72. Atiba University, Oyo, Oyo State
73. Eko University of Medical Sciences, Ijanikin, Lagos
74. Skyline University, Nigeria, Kano, Kano State
75. Greenfield University, Kasarami-Kaduna, Kaduna State
76. Dominion University, Ibadan, Oyo State
77. Trinity University, Laloko, Ogun State
78. Westland University, Iwo, Osun State
79. Topfaith University, Mkpatak, Akwa-Ibom State
80. Thomas Adewumi University, Oko-Irese, Kwara State
81. Maranatha University, Lekki, Lagos State
82. Ave-Maria University, Piyanko, Nasarawa State
83. AL-Istigama University, Sumaila, Kano State
84. Mudiame University, Irrua, Edo State
85. Havilla University, Nde-Ikom, Cross River State
86. Claretian University of Nigeria, Nekede, Imo State
87. Karl-Kumm University, Vom, Plateau State
88. Nok University, Kachia, Kaduna State
89. James Hope University, Lekki, Lagos state
90. Maryam Abacha American University of Nigeria, Kano, Kano State
91. Capital City University, Kano, Kano State
92. Ahman Pategi University, Patigi, Kwara State
93. University of Offa, Offa, Kwara State
94. Mewar University, Masaka, Nasarawa State
95. Edusoko University, Bida, Niger State
96. Philomath University, Kuje, Abuja
97. Khadija University, Majia, Jigawa State
98. ANAN University, Kwall, Plateau State
99. Pen Resource University, Gombe, Gombe State
100. Al-Ansar University, Maiduguri, Borno
101. Margaret Lawrence University, Galilee, Delta State
102. Khalifa Isiyaku Rabiu University, Kano, Kano State
103. Sports University, Idumuje, Ugboko, Delta State
104. Baba-Ahmed University, Kano, Kano State
105. Saisa University Of Medical Sciences and Technology, Sokoto, Sokoto State
106. Nigerian British University, Asa, Abia State
107. Peter University, Achina-Onneh, Anambra State
108. Newgate University, Minna, Niger State
109. European University of Nigeria, Abuja, FCT
110. Northwest University, Sokoto, Sokoto State
111. Rayhaan University, Kebbi State
112. Muhammad Kamalud-Deen University, Ilorin, Kwara State
113. Sam Maris University, Supare, Ondo State
114. Aletheia University, Ago-Iwoye, Ogun State
115. Lux Mundi University, Umuahia, Abia State
116. Maduka University, Ekwegbe, Enugu State
117. Peaceland University, Enugu, Enugu State
118. Amadeus University, Amizi, Abia State
119. Vision University, Ikogbo, Ogun State
120. Azman University, Kano, Kano State
121. Huda University, Gusau, Zamfara State
122. Franco British International University, Kaduna, Kaduna State
123. Canadian University of Nigeria, Abuja, FCT
124. Miva Open University, Abuja, FCT
125. Gerar University of Medical Sciences, Imope-ljebu, Ogun State
126. British Canadian University, Obudu, Cross River State
127. Hensard University, Toru-Orua, Bayelsa State
128. Phoenix University, Agwada, Nasarawa State
129. Wigwe University, Isiokpo, Rivers State
130. Hillside University of Science and Technology, Okemesi Ekiti, Ekiti State
131. University on the Niger, Umunya, Anambra State
132. Elrazi University of Medical Sciences, Kano Kano State
133. Venite University, Iloro-Ekiti, Ekiti State
134. Shanahan University, Onitsha, Anambra State
135. The Duke Medical University, Calabar, Cross River State
136. Mercy Medical University, Iwara, Iwo, Osun State
137. Cosmopolitan University, Abuja, FCT
138. Iconic Open University, Sokoto, Sokoto State
139. West Midland Open University, Ibadan, Oyo State
140. Amaj University, Abuja, FCT
141. Prime University, Abuja, FCT
142. El-Amin University, Niger State
143. College of Petroleum and Energy Studies, Kaduna, Kaduna State
144. Jewel University, Gombe, Gombe State
145. Nigerian University of Technology and Management, Apapa, Lagos State
146. Al-Muhibbah Open University, Abuja, FCT
147. Al-Bayan University, Kogi state
Governor Alex Otti Appoints Mayors to 17 LGAs in Abia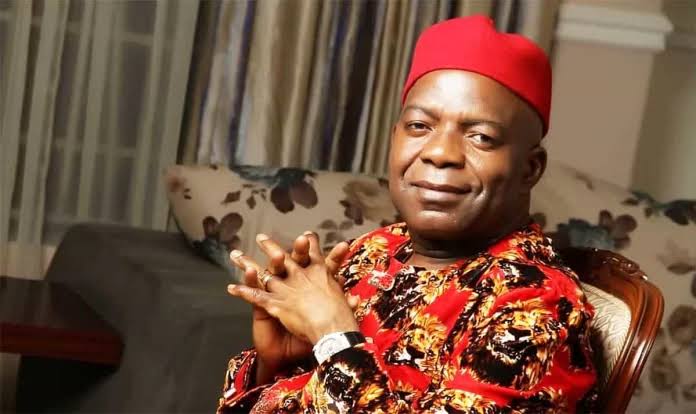 Naijanews – Abia state Governor, Dr. Alex Otti, has appointed mayors for the 17 council areas.
Commissioner for Local Government and Chieftaincy Affairs, Prince Uzo Nwachukwu, disclosed that the list of the nominees has been sent to the House of Assembly for screening and confirmation as required by law.
The nominees include;
Isiala Ngwa South LGA–
Chairman- Dr. Elelenta Nwabuisi Elele;
Deputy- Mr. Eberechukwu Ahuruonye ;
Ukwa West LGA:
Chairman- Mr. Newman Azu ,
Deputy- Mr. Anele Michael
Arochukwu LGA:
Chairman- Chief Joe Ezearu,
Deputy- Mr. Okezie Azuma
Umuahia South LGA:
Chairman- Mr. Obike Ejike Nnochiri
Deputy- Mr. Olendingwa Nwabueze.
RELATED NEWS:
Labour Unions Threaten Nationwide Strike Over Attack On NLC President
Isiala Ngwa North LGA:
Chairman- Mr. C. Y. Nwankwo.
Deputy- Mr. Uchenna Nwanbuko.
Umunneochi LGA:
Chairman- Mr. Ndubuisi Ike
Deputy- Mr. Njoku Augustine C.
Isuikwuato LGA:
Chairman- Air Vice Marshal Chinwendu Onyike (rtd).
Deputy- Hon. Harrison Onuke.
Ikwuano LGA:
Chairman- Mr. Osinachi Hycinth Nwaka
Deputy- Chief Charles Ugbuajah
Bende LGA:
Chairman- Barr. Chijioke Nwankwo
Deputy- Mr. Onyedikachi Iroegbu.
Ohafia LGA:
Chairman- Chief David Ogba
Deputy- Hon. Mkpa Oju Uka.
Obingwa LGA:
Chairman- Dr. Eric Egwuibe
Deputy- Mr. Chiemela Ekpemu
Ugwunagbo LGA:
Chairman- Comrade Nosike Ihesiaba
Deputy- Mr. Nnamdi Kelvin Chijioke.
Ukwa East LGA:
Chairman- Dr. Mrs. Ngozi Nwagbara
Deputy- Chief Onyebuchi Nnah.
Umuahia North LGA:
Chairman- Chief Victor Ikeji
Deputy- Mr. Okechukwu Anthony Amah.
Aba South LGA:
Chairman- MR. Uchechukwu A. C. Wogu
Deputy- Mrs. Nkiru Ugwu.
Aba North LGA:
Chairman- Ide John Udeagbala
Deputy- Prince Nnaemeka Ogbonna
Osisioma Ngwa LGA:
Chairman- ENGR. Israel Nweke
Deputy- Barr. Young Ngwaziem.
"The List of the above mentioned persons has been transmitted to the State House of Assembly by His Excellency, Dr. Alex C. Otti, Executive Governor, Abia State; for Screening and Confirmation as required by law.
"The concerned persons are therefore requested to approach the State House of Assembly for their Screening," the Commissioner said
Dangote Boost Nigeria's FX Earnings by $687.977m.
The management of Dangote Industries Limited (DIL) has announced that the company has sent back more than USD 576 million to Nigeria through different banks. Additionally, they have made a cash swap agreement worth USD 111 million between Dangote Cement Plc and Ethiopian Airlines. This arrangement has helped DIL save an equal amount of money that would have otherwise been paid to the Central Bank of Nigeria.
The company revealed this in a statement released to the media, where it accused BUA Group of sponsoring fake and misleading news about its foreign exchange transactions, approved by the CBN, which were meant for its pan-African operations.
Dangote re-affirmed its determination and belief in Nigeria, noting that the current government of President Bola Ahmed Tinubu has shown the will and resolve to get the economy moving again.
"We are not body-shop inventors. We believe in Nigeria, and we believe in Africa. We are genuine and authentic about our investments, and we call on all relevant agencies to investigate our FX transactions in the past ten years and make public any infraction noticed or discovered."
Insisting that all forex purchases with respect to its African Project Expansion were genuine and fully utilized for what they were meant for.
Dangote revealed that the projects for which the forex was utilized are visible for everyone to see.
"It is on record that some of these projects were commissioned by Nigerian top-ranking government officials, and in attendance were chief executives of various banks, captains of industries, and the presidents of the host countries, supported by their senior government officials.
"The commissioning events of these projects were well documented and covered by both local and international media. There are also print and electronic copies of the commissioning ceremonies as further testimony to the judicious utilization of the funds."
Dangote further explained that its massive investments in pan-Africa will lead to the repatriation of forex in the very near future and boost foreign exchange earnings in Nigeria, as well as stabilize the forex market.