Lagos Governorship Tribunal Prepares for Verdict with Heightened Security Measures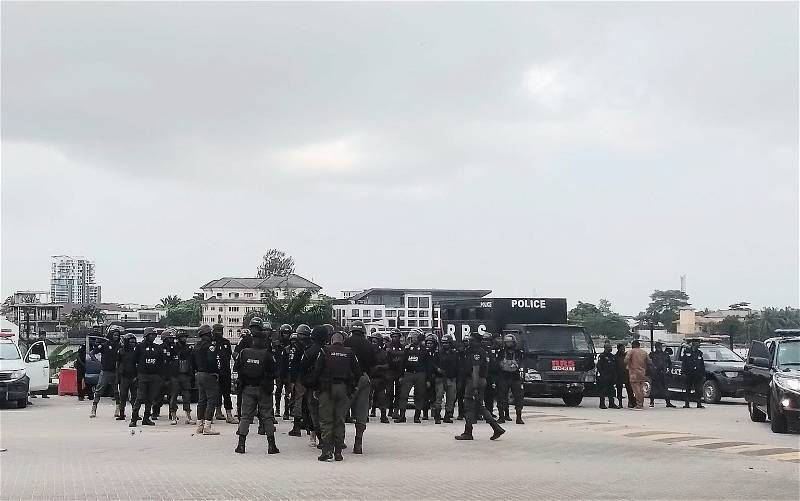 The Lagos Governorship Tribunal Prepares for Verdict with Heightened Security Measures.
As the Lagos Governorship Tribunal nears its verdict in a case that has gripped the attention of the nation, security measures have been significantly heightened to ensure a peaceful and orderly outcome.
The tribunal, responsible for resolving disputes arising from the 2023 Lagos State gubernatorial election, has been a focal point of intense scrutiny since it began its proceedings several months ago.
The case in question involves allegations of electoral irregularities, voter suppression, and other infractions during the gubernatorial election held in Lagos State.
The outcome of this case has far-reaching implications not only for the political landscape of Lagos but also for the larger Nigerian political arena.
With emotions running high among supporters of the various parties involved, security has become a paramount concern.
READ ALSO: Pochettino Reflects on Chelsea's Early Season Challenges: A Call for Maturation
The Lagos State government, in collaboration with federal security agencies, has spared no effort in ensuring that the tribunal's verdict announcement goes smoothly and without incident.
One of the key security measures implemented is the deployment of a substantial number of security personnel to the tribunal premises and surrounding areas.

Armed police officers, alongside paramilitary units, have established a visible presence to deter any potential disruptions.
Roadblocks and checkpoints have been set up strategically to monitor the movement of individuals in the vicinity.
In addition to the physical security measures, advanced surveillance technology has been employed to closely monitor the area.
CCTV cameras are positioned to capture every angle, and intelligence agencies are working around the clock to detect and prevent any security threats.
The tribunal itself has also taken measures to ensure the security of its members, legal teams, and witnesses. Access to the tribunal chambers is strictly controlled, and anyone entering the premises is subject to thorough security checks.
Public gatherings in the vicinity of the tribunal have been restricted, and security forces are prepared to disperse any unauthorized assemblies to prevent potential clashes among supporters of different political parties.
Despite these stringent security measures, there is a palpable sense of anticipation and nervousness among the public.

The verdict of the Lagos Governorship Tribunal is expected to be a watershed moment in Nigerian politics, and the outcome will undoubtedly shape the future of the state.
As the nation awaits the tribunal's decision, the focus remains on maintaining peace, upholding the rule of law, and ensuring that justice prevails.

The heightened security measures in place are a testament to the commitment of the government and law enforcement agencies to achieving these goals and preventing any untoward incidents that could mar this critical moment in Lagos State's political history.
Access Holdings Chairman Bababode Osunkoya passed away.
Access Holdings Chairman Bababode Osunkoya passed away.
NaijaNews reports that the Chairman of the Board of Directors of Access Holdings Plc, Bababode Osunkoya, is dead.
According to a statement filed with the Nigerian Exchange Limited on Thursday night, November 23, 2023, Bababode Osunkoya died after a brief illness on Tuesday, November 21, 2023.
The statement signed by the company secretary, Sunday Ekwochi, said that "Consequent upon the tragic event, the company now has a nine-member board comprising of six non-executive directors (two of whom are independent) and three executive directors, inclusive of the group chief executive officer."
The financial institution revealed that the board will announce Bababode Osunkoya's successor subsequently.
Nestlé Professional Unveils MAGGI Signature Jollof Seasoning Powder in 100g Packaging
Nestlé Professional has unveiled a new 100g pack size of MAGGI Signature Jollof Seasoning Powder at a Jollof Carnival hosted in Lagos.
According to Nestlé Professional the Maggi pack is a convenient and affordable option for out of home users including restaurants, bukas and hotels.
With its attractive packaging and unique flavors, the seasoning in the new pack size responds to current preferences for simplicity and efficiency to help customers create the one-pot meals more consumers prefer today.
Participants at the Jollof carnival had the opportunity to prepare and taste ten different innovative Jollof recipes including Banga Jollof…
Coconut Jollof, Asun Jollof, Nkwobi Jollof, Suya Jollof, Seafood Jollof, all made from MAGGI Signature Jollof in the interactive cooking session!
Oluwayemisi Oluokun, a caterer and the CEO of God's Grace Events, is one of the participants who had the opportunity to recreate an innovative recipe, Nkwobi Jollof.
She said, "I am thrilled that the Nkwobi Jollof I made today turned out so well! MAGGI Signature Jollof gave it such a distinctive, rich flavor.
"Every caterer and chef really need to try this convenient pack to infuse the signature jollof taste into their meals."
Speaking during the product unveiling, Funmi Osineye, Business Manager, Nestlé Professional, said, "No occasion in Nigeria is complete without Jollof Rice…
"And that is why we are happy to introduce the 100g MAGGI Signature Jollof as an affordable and convenient solution for our out-of-home customers.
"This new pack reinforces Nestlé's leadership position and commitment to growing the culinary landscape in Nigeria."
Participants at the colorful Jollof Carnival included chefs, caterers, event planners, representatives of hotels and restaurants as well as the media.
One of the participants, Chef Nick Maaji who is the Vice President South-West of the Association of Professional Chefs Nigeria. He had this to say:
"The 100g pack size of Maggi Signature Jollof is time saving and convenient, making life easy for me as an Executive Chef.
READ ALSO: Super Eagles' Draw vs. Zimbabwe: 2026 World Cup Qualifcation Struggle Continues
"I believe that this will be the same experience for my colleagues in the industry. I also found the showcasing of the diverse ways Maggi Jollof brings recipes to life exciting. It really has been a Jollof Carnival!
Surakat Idowu, President, Association of Professional Caterers and Decorators in Nigeria was also in attendance.
In her words, "I have been using MAGGI since I was in catering school and find that MAGGI Signature Jollof has a great aroma and delivers the authentic jollof taste!
"I must commend Nestlé Professional for introducing this convenient 100g pack option and encourage our caterers to try this product."
Jollof rice is a spicy and savory meal that occupies a special place in Nigerian cuisine. It is a centerpiece on special occasions, at parties, special events and gatherings.
The Nigerian Jollof is renowned for its tasty, rich, and smoky flavor, loved by all. The introduction of an affordable, convenient 100g pack size is therefore a significant addition to Nestlé Professional Nigeria's portfolio.
Dependant Visa Restrictions Impact UK Universities' Revenues Amidst Nigerian Preference for Canada
Most of the universities in the United Kingdom have been experiencing reduced admissions from international students including Nigerians over the dependant visa ban policy.
UK's Dependant visa ban
Recall that the UK Home Office under the sacked interior secretary Suella Braverman introduced the dependant visa ban policy that restricted Nigerians and other migrants from bringing family members with them starting from January 2024.
The British High Commissioner to Nigeria, Richard Montgomery, while speaking on the policy in June said it was implemented to avoid overburdening the British economy's s housing infrastructure and to control the inflow of migrants.
Recounting the repercussions of the policy, the universities and business schools said they cannot meet the admission targets for the year 2024, according to a report by 023 Chartered Association of Business Schools (CABS) Annual Membership Survey.
"In what appears to be an early signal of the impact of an important change to UK visa policy, nearly half (44%) of the country's business schools are reporting that they will miss their non-EU recruitment targets this year," the report said.
"When reporting on performance against non-EU recruitment targets for the 2023/24 academic year, nearly three in ten responding institutions (29%) said they had either significantly or moderately exceeded their goal. Another 27% said they had met their recruitment target.
"But the remaining 44% said that they fell short of their recruitment goals, of which 22% reported being "significantly below" their target enrolment.
"The survey report adds: 'There is significant variation in the results by level of study for non-EU international enrolments, as at undergraduate level nearly half of the schools either significantly or moderately exceeded target compared to one-third of schools at postgraduate level.
"At postgraduate level nearly 50% of schools reported recruitment that was either significantly or moderately below target for non-EU international students, compared to 21% at undergraduate level.'"
READ ALSO: Barcelona Triumphs in Women's Champions League Opener as Oshoala Shines Despite Saudi Visa Cancellation
It added, "Survey respondents reported that they were seeing some of the most significant increases in non-EU enrolment from India, Pakistan, and Ghana. "All these countries had more business schools seeing increases in enrolments for the new academic year than decreases," notes the report. "Growth in enrolments from Nepal and Saudi Arabia were also cited by several schools. None of the schools cited decreases in enrolments from Nepal, Pakistan and Saudi Arabia."
Nigerian and Chinese foreign students
Affected by the dependant visa restriction policy, the report disclosed that Nigerians and Chinese have reduced their admissions to British universities, as it said, "the most frequently cited countries for declining enrolments were China and Nigeria, which could suggest a reversal in the growth in recruitment from these key countries in recent years.
Canada and Australia benefitting from UK's dependant visa ban
The report further said that the number of international students seeking admission to study Master in Business Administration (MBA) has reduced in number, especially from Nigerians and Chinese. It further said these foreign students have turned to Canadian and Australian universities which are now migrant-friendly destinations.
In May 2023, the British government announced that international students would be prevented from bringing dependants with them as of January 2024 (unless students are in postgraduate programmes with a research focus).
The Home Office said at the time that almost half a million student visas were issued in 2022 while the number of dependants of overseas students has increased by 750% since 2019, to 136,000 people. The move to limit accompanying dependents was explicitly done to curb net migration, and was described by the Home Secretary as the "single biggest tightening measure a government has ever done."
The vast majority of respondents to the CABS survey said that they expect to see negative impacts on non-EU enrolment arising from the policy.
According to the report, "It is anticipated that enrolments for MBA programmes will be most affected as MBA students tend to be older and often wish to bring their family with them. Other post-experience programmes, such as Executive Education programmes sponsored by a company, are also expected to be more adversely impacted due to students being more likely to have children.
"Many [respondents] mentioned that the change has prompted them to reassess their school's strategy which includes shifting MBAs and Master's programmes to online delivery if not already offered in this mode, and focusing on growing international student numbers at an undergraduate level instead. There is also a sense that the recruitment of business schools in competitor countries such as Australia and Canada is already benefitting from the UK's decision to ban visas for dependents of students."
The revenue impact
The survey found overall that UK universities remain highly dependent on business school tuition revenue, and that, with the downward pressure on non-EU enrolments for this year in particular, the financial outlook for the year ahead is weakening.
"While 28% and 49% of respondents in 2022 stated that they expected significant and moderate increases in income respectively, these numbers have fallen to 9% and 36% in this year's edition of the survey. 30% of business schools expect a decrease in income compared to only 2% in last year's survey," it added.