Nollywood actress Oge Aneke Gives Birth To Twins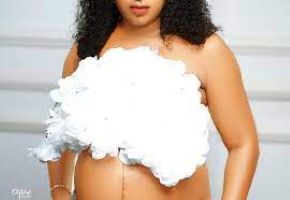 Nollywood actress Oge Aneke Gives Birth To Twins 
NaijaNews reports that Nollywood actress Oge Aneke has welcomed a set of twins after six years of waiting for another child. The star of Love in a Bit, Endless Seconds and Newly Married, who gave birth to her first daughter in 2017, shared lovely baby bump photos of her twins pregnancy on her Instagram page. Oge Aneke made the news a couple of years back after she revealed her husband married her as a virgin.
In an exclusive interview, Oge Aneke opened up about the challenges she faced as a woman who could not conceive another child soon after her first one. She said she faced pressure from society, especially from fellow women who kept telling her to do something about her situation or risk losing her husband to another woman.
"Some women even asked me if I had several abortions or if I had offended any god, not knowing that my husband actually met me a virgin. They scared me that all men are the same and that my husband will kick me out and get another woman as soon as possible if I don't do something. Could you imagine that? It was very frustrating and depressing," she said.
Oge Aneke also revealed that she was lucky to have a supportive husband who stood by her throughout the ordeal. She said he was her number one fan and encourager, who always reassured her that God would do it at his own time.
"I remember a time a particular person kept calling me, telling me he was a pastor and threatening me that he saw a vision that my marriage was going to be over unless I came to their church for special prayers. Meanwhile, my husband was beside me that day and I put it on speaker. My husband handled him and scared him off. he made several attempt at different times, but my husband handled them till they no longer called as they probably got scared they might be apprehended. Their aim was to take advantage of our situation and scam me and my husband," she narrated.
Oge Aneke said she was grateful to God for blessing her with lovely twins. She said she was happy to be a mother of three and thanked her fans for their prayers and support.
She also advised women who are in similar situations to be patient and trust God, and not to allow anyone to pressure them or make them feel less of a woman.
"The society needs to be easy on women. There is pressure from everywhere, especially from fellow women who should be our sisters and friends. Infact, most women who are unable to have another child immediately after their first child are often given the same unfair treatment as women who have not been able to have a child at all. Some women have lost their marriages because they could not give birth to another child quickly. Some husbands' families will bring another wife in for the man to give him children. This is not right and it is very painful," she said.
She urged women to support each other and celebrate each other's successes, rather than tear each other down or mock each other's pains.
"God has a plan for everyone and he does things in his own time. We should not compare ourselves with others or feel bad because someone else has what we don't have yet. We should be happy for them and pray for our own miracle too. God is faithful and he will never forsake us," she concluded.
Man Spends $40k Inheritance on "Beyoncé Tickets" for His Girlfriend
Twitter user shared a story about a 24-year-old guy who used the $40,000 he inherited from his grandfather to buy Beyoncé tickets for himself and his girlfriend.
Naijanewsngr reports that despite him earning minimum wage, he lives with his mother and lacks a car. Interestingly, he hasn't informed his mother about the money he spent and doesn't intend to do so.
Apparently going from broke to rich overnight can be overwhelming on the mind. The full post by @TheAlmightyJT reads;
Dude at the barbershop today said he spent $40k on Beyoncé tickets for him & his girl, even showed me the tickets on his phone with the receipt. He works minimum wage, lives with his mom & doesn't have a car. Only reason he had the $40k is cause his grandpa just died & left him some inheritance. He's 24 & she's 21. They've been together for less than a year. Pray for this brother.
"Apparently the ONLY thing she wanted was to go see Beyoncé.. she said he didn't have to get her anything for her birthday, Christmas or valentines as long as she got beyonce tickets. She even said she'd be happy if her just got her a ticket to go by herself. But he got tickets for both of them cause he wanted to share the experience with her.
"They asked what did his mom say & he said his mom doesn't know and he's never gonna tell her. But she's gonna find out eventually cause she knows he got that inheritance & she's gonna ask about it eventually & it's not like he can put it back the next day.
Now Beyoncé fans stirred up quite a storm in the comments section over the fact that the either the tweeter was lying for clout or the ticket sale was big dupe. Apparently the tickets aren't nearly sold out to be prices that high… Highest ticket sale price should be a little over $3k.
@TheAlmightyJT then replied to his post with a picture and the words;
Ima leave this here then I'm gonna really be done talking about this Some tickets for the ATL show tomorrow priced at about $15k each If you buy 2, after fees/taxes it comes to around $40k $20k for a Beyonce ticket is absolutely a real price It only takes 2 minutes of research to see that And just because you wouldn't buy these, doesn't mean there isn't somebody else out there that will"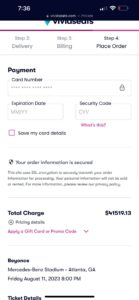 Click here to see @TheAlmightyJT further replies and know how the story ends… Guys be doing a lotta things for their babes. I hope he wasn't duped because he'll probably be depressed and look stupid to his girlfriend. The extra he lost could've gotten him out of his mum's house.
Akmodel: Official Headline Sponsor For Eko Heritage Event At Oriental Hotel, Victoria Island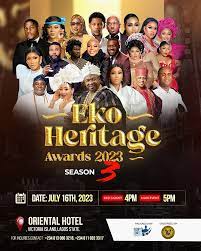 Akmodel: Official Headline Sponsor For Eko Heritage Event At Oriental Hotel, Victoria Island
Akmodel Managing Director, Builder (Dr.) Abdulhakeem Odegade will be attending the prestigious Eko Heritage Awards 2023. The Season 3 of this event is coming up on July 16th at the Oriental Hotels, Victoria Island, Lagos.
The theme of the event is: The Role Of Culture In Promoting Architectural Identity and the Keynote Speaker and Guest Speakers who will do justice to it are: Amb. Dr. Yeye Lara Fashola, Mrs. Janet Mordi, Chief Ganiyu Olalekan Bakare and Mr. Olajide Lawal.
Akmodel Homes and Properties is the only Real Estate company on board and also the Headline Sponsor.
This awards event will be duly handled by the duo of Mog Akpors and Miriam Cole.
Eko Heritage Awards is packaged by Ivory Forte and also proudly endorsed by the Lagos State Government.
United Nations partners Sterling One Foundation to convene the Africa Social Impact Summit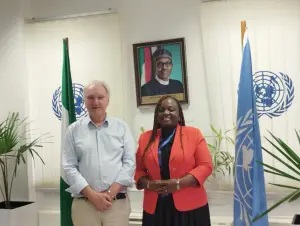 United Nations partners Sterling One Foundation to convene the Africa Social Impact Summit
Sterling One Foundation has announced a partnership with the United Nations to host the Africa Social Impact Summit (ASIS) 2023 in August.
The event which will hold on August 10-11 at the Eko Convention Center, Lagos, will bring together key stakeholders in the African development space, including corporate executives, impact investors, and development experts from various United Nations (UN) bodies and donor agencies, according to Mrs. Olapeju Ibekwe, CEO of Sterling One Foundation.
Other stakeholders expected at the event are leaders of non-governmental organizations (NGOs), heads of government parastatals, international investors, private equity firms, as well as members of the general public who have deeply invested in the growth and progress of Africans, she said.
Mrs. Ibekwe explained, "The Africa Social Impact Summit, is Sterling One Foundation's flagship platform that collaboratively brings together all players in the African development space to share ideas, learnings, and plans to ensure the holistic achievement of the Sustainable Development Goals (SDGs 2030 and Agenda 2063)."
She explained that ASIS is focused on giving various social impact players the right setting to discuss practical solutions to the continent's challenges across climate action, circular economy, health, education, youth empowerment, renewable energy, and other sectors.
According to her, this year's summit aims to structure agreed-on solutions into a comprehensive approach with the potential for long-term impact on the continent by providing more opportunities for more people and equitable access for everyone.
Speaking on the partnership, the Resident and Humanitarian Coordinator for the United Nations in Nigeria, Mr. Matthias Schmale expressed delight at the partnership noting that convening the Africa Social Impact Summit was timely and highly relevant.
He said that against the backdrop of the pandemic, the Ukraine war, and the negative socio-economic impact these and other crises have had on the global 2030 Development Agenda, it is more urgent than ever to rescue the SDGs and to accelerate their achievement in Nigeria and across the continent.
He added that the Africa Social Impact Summit provides an excellent platform for key development stakeholders in the country and on the continent to explore how to move forward together and find common solutions across borders.
Besides panel discussions, the Summit will also feature a deal room, which will allow innovative entrepreneurs to pitch to a curated set of impact investors in a bid to access new investments for their businesses to help deepen their impact and scale their sustainable solutions.
The Sterling One Foundation is a vehicle for positive social impact across critical sectors of the economy. Driven by the unique challenges facing Africa and the need for progressive change, it is committed to being the benchmark of positive social impact in Nigeria by creating sustainable solutions for youth empowerment and job creation via impactful sectors.
The United Nations is an international organization founded in 1945. Currently made up of 193 Member States, the UN, and its work are guided by the purposes and principles contained in its founding Charter. Besides its focus on development, the UN also promotes peace across the globe and assists governments and their citizens in overcoming humanitarian challenges.
Intending participants can register at www.theimpactsummit.org.