Ecobank Nigeria Gets IFC/NGX Award For Promoting Gender Balance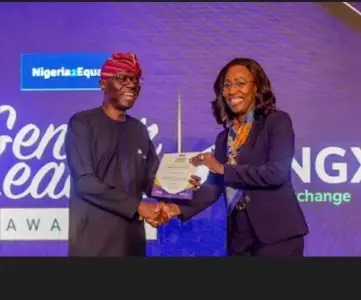 Ecobank Nigeria Gets IFC/NGX Award For Promoting Gender Balance
Diversity in Supply Chain to Deputy Managing Director, Ecobank Nigeria at the IFC/NGX event in Lagos recently
Ecobank Nigeria limited has been recognized as one of Nigeria's key private sector players promoting gender balance and equality in the workplace at the Nigeria2Equal Gender Leader awards organized by International Finance Corporation (IFC) and Nigerian Exchange Group (NGX Group).
The Gender Leader Awards, which is being implemented under the Nigeria2Equal (N2E) program, is designed to recognize, and celebrate private sector companies leading the way in Gender Equality Performance across a broad range of indices. Ecobank Nigeria was an awardee in the Gender Diversity in Supply Chain category at the high-level event by priivate sector company chief executives, business leaders and dignitaries including the Lagos State Governor, Babajide Sanwo-Olu.
Speaking during the award ceremony, IFC's Regional Director, Central Africa, Liberia, Nigeria and Sierra Leone, Ms. Dahlia Khalifa, commended the progress of Nigeria2Equal's participating companies in advancing the role of women in their organizations.
Khalifa said, "As we celebrate the accomplishments of these organizations who have shown outstanding leadership in closing the gender gaps within their own organizations, we acknowledge the power of collaboration and the transformative impact that specific, measurable, and time-bound commitments can have on achieving gender parity in Nigeria's private sector. IFC remains resolute in our commitment to sustain the momentum and support the private sector to scale up its efforts for a more gender-balanced, prosperous future."
Receiving the award, Deputy Managing Director, Ecobank Nigeria, Carol Oyedeji said Ecobank has policies and structures in place that promote gender balance in its employment, stressing that the recognitions are a testament of Ecobank Nigeria's significant contributions to advancing gender equality within the organization and by extension, in Nigeria's private sector.
She disclosed that the bank also has many initiatives and innovative products targeted at empowering and sustaining female entrepreneurs in Nigeria such as 'Ellevate' and 'Ecobank Female Entrepreneurs Initiative (EFEI)', which are designed to empower and support female owned small-scale businesses.
According to her. "Across Ecobank, we are intent on ensuring that all women can reach their full potential and always have equal opportunities to men in advancing their careers and achieving promotion. Female staff are holding strategic leadership and management positions in the organization. We are committed to creating a society and workplace that is free of bias and gender-based discrimination," she said.
Access Bank Establishes Dedicated Desk to Enhance Agric Lending
Access Bank Establishes Dedicated Desk to Enhance Agric Lending
•Says it has invested over N200bn in agro businesses
Access Bank Plc has launched a dedicated Agriculture Desk that would support agribusiness and boost food security in Nigeria as part of its commitment to the realisation of "From Farm to Table" policy of the Central Bank of Nigeria's (CBN).
The Agriculture Desk, which was designed to serve as a specialised unit within the bank, would offer financial and advisory services and provide support to prospective and existing operators in the Nigerian agribusiness value chain.
The bank said the desk would also provide services in the areas of input and supply, primary production, storage, processing, marketing and mechanised agriculture among others in a way that would facilitate the actualisation of the "From Farm to Table" policy thrust of the CBN, which it stressed aligns with its vision of contributing to the country's achievement of sustainable food security.
Speaking on Tuesday, during a press conference that marked the unveiling of the Agriculture Desk at the Access Towers, the Executive Director, Commercial Banking, Ms. Hadiza Ambursa, said, "the Agriculture Desk is not only about financing. It is about driving transformational change within the agricultural landscape."
"Our commitment extends beyond monetary support to encompass capacity building, technology adoption, and market access for our clients," she added.
Ambursa, added that "the Agriculture Desk's impressive track record has been built on partnerships with key stakeholders, including government agencies, international organisations, and industry associations. This collaborative approach has reinforced our reputation as a reliable driver of growth in Nigeria's agricultural sector."
She said Access Bank has positively contributed to the nation's quest to achieve self-sustained food security.
"So far, the bank's investment in agribusiness is over N200 billion, which has benefitted over 10,000 agribusinesses, across Small Holder Farms (SHFs), Small and Medium Enterprises (SMEs), organised farmer associations/cooperatives and corporates who are financed under bank's various product and government schemes.
"The support for these projects has had impacts such as increase in food security, job creation, growth in customers' businesses and increased revenue," she added.
Access Bank said with its steadfast commitment to sustainable agricultural business and strategic stakeholders' partnerships, it has steered Nigeria and the African continent toward greater self-sufficiency in food production and global prominence.
It further noted that by strategically aligning its services with the evolving needs in the agricultural industry, Access Bank has enhanced its capacity to provide tailored financial solutions that address the unique challenges faced by farmers, agribusinesses and other stakeholders in the value chain with the value addition services, including provision of financial and advisory services, market linkages to support sales, capacity building with special focus on women and youth), stakeholders' engagement, project monitoring and reporting, just to name a few.
Access Bank also assured its clients that its Agriculture desk would offer seamless and simplified process for accessibility of its services within two weeks.
Assessing these services, it said, would begin with, "being our customer, submit loan application and documentations such as feasibility report, acceptable credit checks and other others, then the loan request is reviewed, farm / factory / site inspection is done. If a customer meets all loan requirements, upon receipt of complete documentation and depending on the amount, the process takes between one to two weeks.
"Also, the loan tenor is aligned with project gestation period and customer cash flow and repayment plan allows monthly or quarterly repayment in line with the customer's cashflow while our interest rate is highly competitive and in line with market realities.
WEMA BANK, SELAR PARTNER TO EMPOWER AFRICA'S CREATOR ECONOMY WITH A WEBINAR ON "THE DIGITAL ECONOMY AND THE FUTURE OF WORK"
WEMA BANK, SELAR PARTNER TO EMPOWER AFRICA'S CREATOR ECONOMY WITH A WEBINAR ON "THE DIGITAL ECONOMY AND THE FUTURE OF WORK"
Wema Bank, Nigeria's most innovative bank and pioneer of Africa's first fully digital bank, ALAT, has partnered with Selar, Africa's largest creator platform, to empower African creatives and bridge the prevalent gaps in the African creative space.
This revolutionary partnership has birthed a power-packed webinar titled "The Digital Economy and the Future of Work", a learning and problem-solving webinar aimed at helping Africans—especially Nigerian—creators to maximise their potential and leverage available resources to transform their creativity into sustainable streams of income.
In a world where work is evolving, the concept of employment is undergoing a profound transformation. The creator economy is reshaping the digital landscape, granting young individuals unprecedented opportunities to create and monetize knowledge as never before.
Generation Z and Millennials are harnessing the creative space to attain financial independence by selling digital content and forging careers as creators. Scheduled for September 29, 2023, this webinar promises to illuminate the challenges and prospects that creators encounter as they navigate this exhilarating terrain. It offers invaluable insights into effectively tapping into its potential.
According to a survey conducted by Selar, one in every four creators is an employer, a testament to the potential for creators not only to earn but to create job opportunities, thus bolstering the African Creator Economy as a stable and lucrative source of income. This, in turn, promises to reduce unemployment rates in Africa, contributing to the achievement of the Sustainable Development Goals.
Solomon Ayodele, Head of Innovation & Corporate Transformation at Wema Bank and one of the speakers at the event, commended the bank's commitment to innovation, recounting the bank's storied history of resilience and technological advancement. He affirmed Wema Bank's dedication to equipping its customers with practical knowledge to help them monetize the digital sphere effectively.
According to Douglas Kendyson, the C.E.O. of Selar and another speaker at the event, the dream is for the partnership to mark the beginning of a strong network of groundbreaking initiatives from both powerhouses—Wema Bank and Selar—to revolutionise the creative space in Africa and build more jobs for Africans all over the world.
"I've been in the tech space for years now and Wema Bank has been at the forefront of innovation—from digital banking alternatives like ALAT to youth-empowering technology programmes like Hackaholics and much more—all of which have shaped the entire FinTech industry, which is why this partnership is so important to us at Selar.
This highly anticipated event would demystify the complexities of the creative space, with a distinct focus on the African context. Key speakers for the webinar include Douglas Kendyson, Solomon Ayodele, Benjamin Dada (Founder/Publisher, Benjamin Dada Blog), and Senior Manoa, one of Nigeria's premier creators.
Attendees can expect to gain valuable insights into the challenges and opportunities faced by creators across the African continent, the pivotal role of financial institutions in fostering the growth of the creator economy, and practical guidance for establishing and enhancing successful online businesses with digital products.
This event welcomes attendees from all walks of life, from budding creators to established entrepreneurs eager to harness the dynamic potential of the creator economy.
Wema Bank, once again, redefines the global standard for banking and reaffirms its position as the bank that works tirelessly to support every stakeholder. Mark your calendar for "The Digital Economy and the Future of Work" on September 29, 2023. To secure your spot, register for free at [https://bit.ly/WemaXSelar].
About Wema Bank:
Wema Bank is the pioneer of Africa's first fully digital bank, ALAT, and one of Nigeria's most resilient banks. With decades of experience in the business of banking, the bank has remained innovative in delivering value to its stakeholders. The publicly quoted Nigerian company has successfully built a legacy of trust and resilience that has won the loyalty of its customers.
The bank is constantly introducing products and services tailored to the needs of its customers at every stage of their lives. It is a proud partner to more than one million individuals, families, and businesses across Nigeria, helping them achieve their personal and financial goals.
About Selar: Selar is an innovative e-commerce store builder designed to empower creators to showcase and sell their digital products. With a user-friendly interface and comprehensive features, Selar has become a leading platform for monetizing knowledge and skills in the digital space.
UBA IS HEADLINE SPONSOR OF LAGOS INTERNATIONAL TRADE FAIR 2023, PARTNERS LCCI TO BOOST SMALL BUSINESSES IN AFRICA
UBA IS HEADLINE SPONSOR OF LAGOS INTERNATIONAL TRADE FAIR 2023, PARTNERS LCCI TO BOOST SMALL BUSINESSES IN AFRICA
UBA to Incentivise Businesses that register to Attend.
Africa's Global Bank, United Bank for Africa (UBA) has announced that it is once again the headline sponsor of the 2023 edition of the annual Lagos International Trade Fair.
In partnership with the Lagos Chamber of Commerce and Industry (LCCI), organisers of the annual event, UBA seeks to bolster small and medium scales businesses, while catalysing entrepreneurial growth across the continent.
For the past five years, UBA has been the headline sponsor for this all-important event, and this year's edition which is the 37th, is scheduled to hold at the Tafawa Balewa Square, Lagos, between November 3rd and 12th, 2023.
Speaking at a press briefing in the Commerce House, Lagos on Thursday to announce the partnership, the Chairman Trade Promotion Board, LCCI, Engr. Leye Kupoluyi, commended UBA for once again sponsoring the Trade fair.
He told participants that this edition promises to provide networking opportunities, showcasing innovation, promoting international trade, industry and sector diversity while boosting local businesses.
He said the local organising committee is bringing world class facilities and ambience with the best exhibition standard, health, safety and deployment of digital banking platforms provided by the bank for the ease of money transactions and intra-Africa fund transfers.
UBA's Head, SME Banking, Babatunde Ajayi, who spoke on the partnership said, "UBA's partnership with the LCCI emphasizes its support for local businesses and the community.
We at UBA, consider this as exemplary which is why our partnership with LCCI continues to stand the test of time. There is no gain saying that in virtually all economies all over the world – developed and developing alike, small and medium-sized enterprises (SMEs) are critical to the generation of economic activity and to long-term sustainability."
He explained that the bank's commitment to offer special incentives to businesses that register to attend the fair is In line with UBA's unflinching support to the growth of small and medium enterprises (SMEs), maintaining that "UBA will be giving special incentives to businesses who register to attend the fair," Ajayi noted.
Overall, the collaboration between UBA and the Lagos Chamber of Commerce and Industry to host the Lagos International Trade Fair in 2023 appears to be a significant opportunity for businesses, both small and large, to grow, network, and explore new horizons in the business world. It has the potential to boost economic activity and contribute to the development of the Nigerian business landscape.
UBA is a leading pan-African financial institution, offering banking services to more than thirty-seven million customers across 1,000 business offices and customer touch points in 20 African countries.
With presence in New York, London, Cayman Island and Paris and now the UAE, UBA is connecting people and businesses across Africa through retail, commercial and corporate banking, innovative cross-border payments and remittances, trade finance and ancillary banking services.