Taoreed Lagbaja approves new appointments and redeployments in the Nigerian Army
Taoreed Lagbaja approves new appointments and redeployments in the Nigerian Army
The Chief of Army Staff (COAS) Major General Taoreed Lagbaja has approved the appointment and redeployment of Major Generals, and Brigadier Generals amongst several other senior officers across Nigerian Army formations and units in the country.NaijaNews gathered.
Brigadier General Onyema Nwachukwu, Director, of Army Public Relations, in a press release on Friday, stated that the approval by the COAS is to rejig the Nigerian Army (NA) towards ensuring administrative and operational efficiency, after assuming command.
Those affected in the recent redeployment include some Principal Staff Officers (PSOs) of Defence and Army Headquarters, Corps Commanders, Commandants of Nigerian Army Training Institutions, Brigade Commanders, Commanding Officers and several others.
The press release said that "Major General VU Okoro from the Department of Army Operations moves to Headquarters 2 Division as the new GOC, Major General HT Dada from Defence Intelligence Agency to Headquarters 82 Division as the GOC, Major General MT Usman redeployed to 81 Division as GOC from HQ 2 Division and Major Gen KA Isoni who will assume Command as the Commander Army Headquarters Garrison, while Major General AE Abubakar is redeployed from Headquarters 7 Division / Sector 1 OPHK to Headquarters 3 Division NA as GOC and Commander Operation SAFE HAVEN ."
The newly appointed Corps Commanders are; "Major General GO Adesina, who has been redeployed from Defence Headquarters to Headquarters Nigerian Army Signals Corps and appointed Corps Commander, Major General OO Oluyede from Office of the COAS Directorate of Inspection and Compliance to Headquarters Infantry Corps as Corps Commander, while Major General HG Tafida has been redeployed from DICON to Headquarters Nigerian Army Electrical and Mechanical Engineers as the new Corps Commander. Major General EL Ugwuoke is appointed Corps Commander Nigerian Army Ordinance Corps from AHQ Department of Logistics and Brigadier General SI Musa as the new Acting Director Legal Service, while Brigadier General ND Shagaya is now the Commandant Nigerian Army School of Supply and Transport."
Among the newly redeployed Defence and Army Headquarters Principal Staff Officers are; "Major General EV Onumajuru from Department of Special Services and Programmes (Army) to Defence Headquarters and appointed Chief of Defence Operations, Major General ES Buba from Defence Intelligence Agency to Defence Headquarters and appointed Director Defence Media Operations, Major General OR Aiyenigba from Headquarters Nigerian Army Corps of Military Police and appointed Chief of Army Standards and Evaluation, Major General OJ Akpor has been appointed Chief of Administration (Army).
"Others are Major General HT Wesley from TRADOC to Army Headquarters as Chief of Special Services and Programmes (Army), Major General Y Yahaya from Defence Headquarters to Department of Personnel Management and appointed Chief of Personnel Management, while Major General IM Jallo moves from Army Headquarters Department of Policy and Plans to Office of the COAS as Director Inspection and Compliance.
"Other senior officers affected are Major General EA Anaryu from Nigerian Army Heritage and Future Centre to Nigerian Armed Forces Resettlement Centre and appointed Deputy Commandant, Brigadier General NJ Edet from Headquarters 9 Brigade to Headquarters 14 Brigade as the new commander, while Brig Gen JIB Manjang was redeployed from Army War College Nigeria to the Nigerian Army College of Logistic and Management and appointed Deputy Commandant among several others."
The Nigerian Army has clarified that redeployment is routine, particularly with the recent retirement of some senior officers as a result of the appointment of the new Army leadership and the redeployments take effect from 3 July 2023.
Govt, Labour Congress meeting ends in deadlock.
Govt, Labour Congress meeting ends in deadlock.
Details of the meeting between the Federal Government and the Nigeria Labour Congress (NLC) have emerged.
The meeting ended in a deadlock on Monday.
The Minister of Labour and Employment, Simon Lalong, called the meeting, which failed to address any of the issues raised by the Union.
However, the minister expressed optimism that the issues raised by the Nigerian workers would be addressed.
He said the FG would resolve the issues before the deadline.
"We must also recognize the economic realities that confront us.
"As we address the concerns of our workforce, we must be mindful of striking a balance that promotes economic growth and secures sustainable progress for our nation.
"Today, I call upon each one of you to join hands in an open-minded and constructive dialogue, enabling us to bridge any gaps that may exist between the interests of workers and the ultimate goal of driving economic advancement," he said.
NLC President Ajaero said: "In the ultimatum we gave and in the NEC resolution, the issue of NURTW was clearly stated, and at the time, the issue had not degenerated the way it is now. That was why we had to bring it along.
"On the other issues, you can see that there was no agreement on any; there is no CNG anywhere, and refineries are not working, nor gas.
"Nothing has been done on the issue of wage awards, cash transfers, or the ASUU issues. However, we believe that between now and the next few days, when the ultimatum expires, something will happen."
Ajaero said there was no going back on the planned indefinite strike if no progress was made before the expiration of the union's ultimatum.
Breaking News: Dramatic Rescue as Fire Engulfs Lekki Shanty
In a heart-wrenching incident that unfolded earlier today, a shanty settlement in the upscale area of Lekki, Lagos, was engulfed in flames, leaving residents scrambling for safety and hope.

The fire, a relentless force of destruction, threatened to consume everything in its path, but amidst the chaos and despair, two lives were miraculously saved.
The Lekki shanty, like many informal settlements around the world, was a tightly-knit community where people, despite facing severe economic hardships, found a sense of belonging and resilience. However, this morning, their lives took an abrupt turn as plumes of thick, acrid smoke filled the sky, darkening the once-vibrant neighborhood.
The response from local authorities and good Samaritans was swift. Firefighters from the Lagos State Fire Service rushed to the scene, battling against the raging inferno.
Their courage and determination were on full display as they fought valiantly to contain the blaze and prevent it from spreading further.
As they worked tirelessly, the streets echoed with the panicked cries and prayers of those who had lost everything.
READ ALSO: Ecobank Introduces "EPAC Studios" To Promote Africa's Creative Industry
Amidst the chaos, the heroism of two individuals shone brightly. Mr. Ade, a middle-aged resident of the shanty, emerged as a true savior.
Risking his own life, he braved the flames to rescue his neighbors trapped in their burning homes. With unwavering resolve, he helped carry an elderly woman and a young child to safety, earning the gratitude and admiration of the entire community.
The rescued woman, Mrs. Okonkwo, spoke tearfully of her harrowing experience. She expressed her gratitude to Mr. Ade and the firefighters who had come to their rescue. Her story serves as a poignant reminder of the strength and resilience of ordinary people in the face of adversity.
As the hours passed, the firefighters' efforts finally paid off, and the flames were brought under control. While the shanty had suffered extensive damage, the worst had been averted.

Thanks to the rapid response of the authorities and the bravery of Mr. Ade, the community had not suffered any casualties, save for the trauma of witnessing their homes reduced to ashes.
The aftermath of this devastating fire serves as a sobering reminder of the vulnerabilities faced by informal settlements and marginalized communities. It underscores the urgent need for improved safety measures and infrastructure in such areas to prevent such disasters in the future.
In the midst of tragedy, the resilience and heroism displayed by the residents of the Lekki shanty, as well as the valiant efforts of the firefighters, provide a glimmer of hope.

It is a testament to the strength of the human spirit and the power of unity in the face of adversity.
While the road to recovery will be long and challenging, the Lekki community will undoubtedly emerge stronger, their bonds forged even tighter in the crucible of this fiery trial.
'Cold War' Between NAPIMS Boss, Bala Wunti And NNPC Head Honcho, Mele Kyari Rages On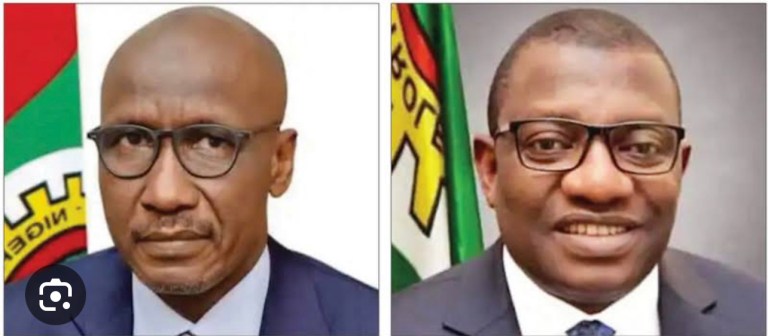 During conflicts, being truly brave can be hard to find. Friends can drift apart, and bonds can suffer. This is why Bala Wunti and Mele Kyari need to protect their special friendship.
Unfortunately, these two Northern brothers had a big fight a few months ago. Unlike small arguments, they must resist the urge to turn against each other and keep their good relationship intact.
As they handle their roles, the lines between their authority and influence often get blurry. This can lead to problems that affect both of them and their jobs. If troublemakers get their way, they'll make the leaders of the Nigerian National Petroleum Corporation Limited (NNPCL) and National Petroleum Investment Management Services (NAPIMS) doubt each other.
Naijanewsngr reports that the Group Managing Director of NNPC accused the Managing Director of NAPIMS of not following orders, and NAPIMS tried to tell the President about NNPC's unfair and unclear actions, causing tension between these organizations.
To understand, Nigeria's investments in the oil sector depend a lot on NAPIMS. It makes sure Nigeria gets a good deal from joint ventures and production sharing contracts, among other things. With so much at stake, some people can act bossy.
But during Wunti and Kyari's time in charge, all these problems from the past disappeared. They trusted each other completely, which frustrated people with hidden agendas in both agencies.
No matter how hard troublemakers try, they won't succeed in making Wunti and Kyari doubt each other. Their friendship is like a healing force for the government's troubled parts.
Source: omonaijablog