BREAKING:  Nollywood Actor Prince Adewale Adeyemo is Dead 
BREAKING:  Nollywood Actor Prince Adewale Adeyemo is Dead 
Veteran Yoruba actor, Prince Adewale Adeyemo, died on Monday morning after a brief illness.
NaijaNews reports that the news was announced by fellow actor Kunle Afod on his Instagram page. Sharing a picture of the deceased, Afod wrote, "Hmmmm, God, you know best. RIP, Prince Adewale Adeyemo.
"He passed away in the early hours of today after a brief illness. God will comfort all his family, friends, and colleagues." This comes hours after the Yoruba movie industry held a night of tribute for the late Murphy Afolabi, who passed on May 14, 2023.
Burna Boy Turns Down $5million Dubai Gig Because of Weed
Naijanews – Grammy-winning Nigerian superstar, Burna Boy, has revealed that he recently turned down a $5 million offer to perform in Dubai, United Arab Emirates, UAE.
Burna Boy, whose real name is Damini Ogulu, stated that he turned down the offer because they will not allow him to smoke weed while in Dubai.
He started that Emirati law prohibits smoking in parks, beaches and all public recreational areas in Dubai.
MORE NEWS:
Adebola Williams and Kehinde: Welcoming Baby Arinoluwa
"Just now I turned down dubai money, 5million dollar na small thing cos me I no dey like to dey go where dem no go gree allow me smoke igbo," Burna Boy freestyled while rehearsing with his band, Outsiders, in a video making the rounds on social media platform, X.
"Hustle make you go fall off like Brymo" — Burna Boy 👀 👀 pic.twitter.com/XGnCojYMPc

— WeTalkSound (WTS) (@wetalksound) October 31, 2023
Adebola Williams and Kehinde: Welcoming Baby Arinoluwa
Popular Nigerian media entrepreneur Adebola Williams and his wife, Kehinde, are over the moon as they proudly announce the arrival of their first child, a beautiful baby girl named Arinoluwa.
The couple shared their joy through a heartwarming Instagram post that captured the essence of this special moment.
The announcement was made on both Adebola and Kehinde's Instagram pages, where they revealed that Arinoluwa was born on September 3, 2023, through an elective caesarian section.
The accompanying pictures paint a vivid picture of the joyous occasion, with the first image capturing Adebola tenderly kissing Kehinde's forehead as she cradles their newborn behind the surgical curtain.
In the second image, Adebola is beaming with pride as he holds their precious baby girl, his happiness radiating through the screen. The post not only shares the excitement of the new parents but also serves as a platform for Adebola to express gratitude.
The caption, "12:14 pm| 09 | 03 AriolaOluwa Ava Oluwateniola Adebola-Williams arrived. "

"Like her name, we have truly seen the wealth of God; it is marvelous in our sight," encapsulates the depth of their emotions.

Adebola extends a heartfelt prayer for those on a similar journey, stating, "It's really raining babies this season; may God answer all those who seek."

"May it also rain the birth of ideas, businesses, promotions, and new levels of glory for all despite the times!"
Read Also: Ilebaye Emerges Victorious in Big Brother Naija All Star Season
The sentiment is echoed by the flood of congratulatory messages, prayers, and well-wishes that poured in from friends, family, and followers alike.
The news of Arinoluwa's arrival is particularly poignant as it comes after the couple's announcement of their pregnancy on October 8, 2023.
At that time, they shared stunning shots from Kehinde's maternity shoot, already hinting at the joyous addition to their family.
Adebola Williams, known for his prominent role in the Nigerian media landscape, tied the knot with Kehinde on August 7, 2021.
The couple's journey from exchanging vows to welcoming their first child has been a source of inspiration for many, and the outpouring of love in response to their announcement reflects the widespread joy and excitement for this new chapter in their lives.
Matthew Perry: Friends Star Dies at 54 After Drowning in Jacuzzi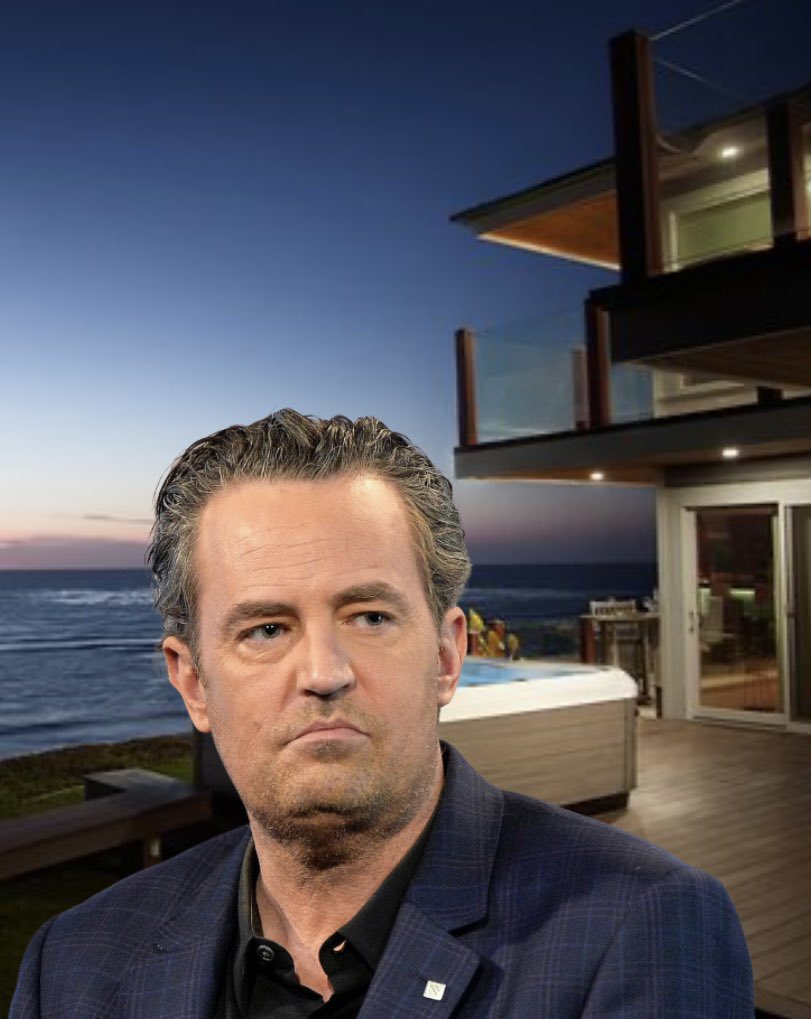 Naijanews – Matthew Perry, the actor best known for playing Chandler Bing in the hit sitcom Friends, has died at the age of 54.
He was found dead in his jacuzzi at his Los Angeles home on Saturday afternoon, according to sources close to the star.
Perry had apparently played a two-hour session of Pickleball, a paddle sport that combines elements of tennis, badminton and table tennis, earlier that day.
He then sent his assistant out to run an errand, and when they came back, they discovered him unresponsive in his hot tub.
Emergency crews were called to the scene at around 4pm local time, but they were unable to revive him.
There was no sign of foul play or drug use, and the cause of death was ruled as accidental drowning.
MORE NEWS:
Taylor Swift Skips Travis Kelce's Big Game to Prepare for 'Eras Tour'
A Global Icon of Comedy and Friendship
Matthew Perry rose to fame in the 1990s as one of the six main cast members of Friends, a comedy show that followed the lives and loves of a group of young adults living in New York City.
His character, Chandler Bing, was known for his sarcastic humor and witty one-liners, as well as his romance with Monica Geller, played by Courteney Cox.
Friends was a huge success worldwide, attracting millions of viewers and winning numerous awards.
It ran for 10 seasons from 1994 to 2004, and is still widely watched today on streaming platforms and reruns.
Perry received an Emmy nomination in 2002 for his performance as Chandler, and also starred in several movies and TV shows, such as The Whole Nine Yards, 17 Again and The Odd Couple.
Matthew Perry was also close friends with his co-stars off-screen, and often shared photos and videos of their reunions on social media.
He recently participated in a highly anticipated Friends reunion special that aired on HBO Max in May 2021.
Where he joined Jennifer Aniston, Courteney Cox, Lisa Kudrow, Matt LeBlanc and David Schwimmer for a nostalgic trip down memory lane.
A Long Struggle with Addiction and Health Issues
Despite his fame and fortune, Perry had a turbulent personal life that was marred by addiction and health problems.
He admitted that he had been addicted to alcohol and prescription drugs since the late 1990s, and that he had no memory of filming some seasons of Friends due to his substance abuse.
Matthew Perry went to rehab several times to seek treatment for his addiction, and also became an advocate for recovery and sobriety.
He opened his own sober living facility called Perry House in Malibu in 2011, where he helped other addicts overcome their struggles.
Perry also suffered from various physical ailments throughout his life. He had pancreatitis in 2000, which caused him to lose a significant amount of weight.
Matthew Perry also had gastrointestinal surgery in 2018 to repair a hole in his stomach. In addition, he revealed that he had suffered a stroke in 2020 that left him with slurred speech.
A Legacy of Laughter and Love
Perry's death has shocked and saddened his fans and colleagues around the world, who have taken to social media to express their grief and pay tribute to him.
His Friends co-star Courteney Cox posted a heartfelt message on Instagram, saying:
"I am heartbroken to lose such a wonderful friend. You were a ray of sunshine in my life and everyone else's. You made us laugh so hard with your brilliant humor and your kind soul. I will miss you forever."
Other celebrities who worked with Perry or admired him also shared their condolences and memories of him.
Ellen DeGeneres tweeted:
"Matthew Perry was a genius at comedy and a wonderful person. I'm so sorry for his family and friends."
Jimmy Kimmel wrote:
"Matthew Perry was one of the funniest people I ever met. He was also one of the nicest. I'm very sad to hear this news."
Perry's family members have not yet issued a public statement about his death, but sources said they are in a "state of shock" and are asking for privacy during this difficult time.
Matthew Perry will be remembered as one of the most talented and beloved actors of his generation.
Who brought joy and laughter to millions of people with his iconic role as Chandler Bing.
He will also be remembered as a generous and compassionate person who helped others overcome their challenges.
Matthew Perry leaves behind a legacy of comedy and friendship that will live on forever.