My Reasons for Supporting Peter Obi– Chimamanda Adichie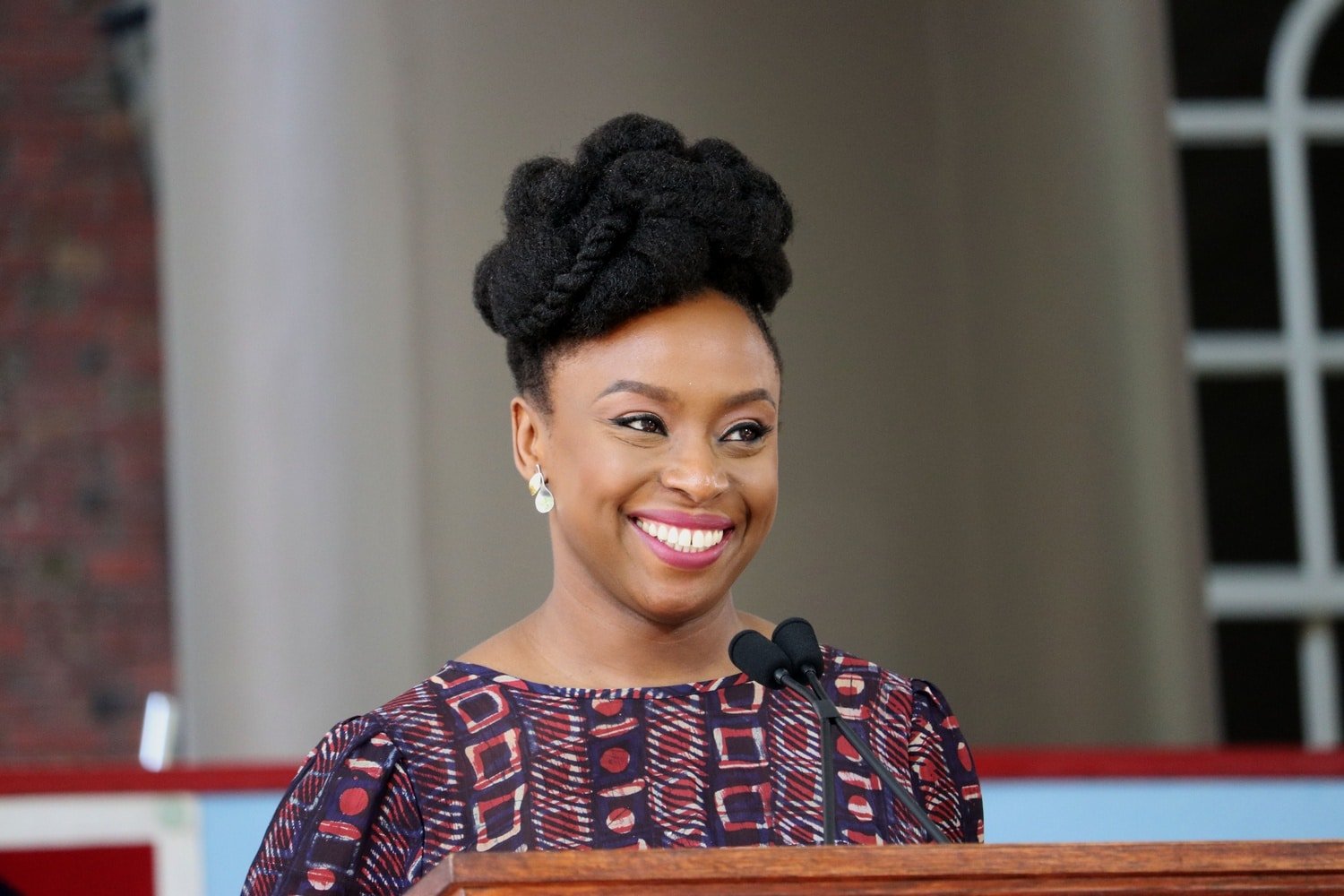 My reasons for supporting Peter Obi– Chimamanda Adichie
NaijaNews reports that the Nigerian-born international writer, Chimamanda Adichie has explained why she supported Peter Obi of the Labour Party, LP, for the February 25 presidential election.
Adichie said her support for Obi is deeply rooted in her faith in Obi's ability and how he showed interest in ordinary people.
She also said Obi tackled insecurity in Anambra, a development that led to his clash with the elites in the State.
Adichie disclosed this on Tuesday while fielding questions on Arise Television's programme.
Recall that the award-winning writer had written a letter to Joe Biden, the president of the United States of America, US, expressing deep concern about the election outcome.
She claimed in her letter that the election was marred by irregularities and the failure of the Independent National Electoral Commission, INEC, to follow its stipulated guidelines for the presidential election.
Adichie warned that it would "tarnish America's self-proclaimed commitment to democracy and give the sheen of legitimacy to an illegitimate process" if Biden recognised Tinubu's presidency.
The acclaimed writer also expressed in the letter that she supported Obi for the nation's top job.
Meanwhile, Adichie clarified why she supported Obi, recounting how she got to know him years ago when he came to pay homage to her parents.
According to her, Obi came to their home because he heard her father was the first professor of statistics in Nigeria and that her mother retired as the first female registrar of the University of Nigeria.
"Why I very much admire Peter Obi, respect him, there are many others out there whom I admire and respect, and I will never vote for them for president because I don't just think they will make the president.
"And so my support for Peter Obi is deeply rooted in real things; it is rooted in my faith in his ability. Actually, I got to know him years ago when he came to pay homage to my parents because he had heard my father was the first professor of statistics in Nigeria and that my mother had retired as the first female registrar of the University of Nigeria.
"And so this man just sort of arrived and said he just wanted to pay homage, and I was very impressed by that because he showed me how much he values education.
"And then, he became governor of Anambra State, and he took Anambra State to number one in education. I remember being very impressed by the story of how he had given his personal phone numbers to all of the senior prefects in secondary schools in Anambra, which I think also showed me he is interested in what ordinary people think.
"He does not just want to hear from the administrators; he wants to hear from them; he wants to hear from the students about what is really happening.
"And his focus on security, he really tackled kidnapping in Anambra, and I also remembered that he used to clash with the Anambra elites when he was tackling insecurity and kidnapping and that showed me he is quite decisive; he is just very focused on things. And that is really why I support him."
President Tinubu's "Real Age" is revealed by Charly Boy, who also shares an old document.
President Tinubu's "Real Age" is revealed by Charly Boy, who also shares an old document.
Nigerian socio-political activist and musician Charles Oputa, popularly known as Charly Boy, has taken to social media to share an old photograph supposedly including President Asiwaju Bola Ahmed Tinubu and his schoolmates.
Via his Twitter page, Charly Boy, who makes a mockery of the found document, asserted that Tinubu's real age should be 84 and not 71, as currently being claimed by the incumbent President of Nigeria.
The entertainer also took a swipe at former Minister of State for Labour and Employment, Festus Keyamo, saying the All Progressives Congress (APC) chieftain would be scratching his head on how to spin the narrative of the latest finding about his paymaster.
"Congratulations Nigeria. Hurray! It was a torturous journey, but praise God, his classmates have been found. The transmutation from Amoda Ogunkere Yekini to Bola Ahmed Tinubu was the issue.
"Now, I believe with this 'discovery', our learned Festus Keyamo will be scratching his head on how to re-spin the theory of homeschooling for his super-intelligent paymaster, former adversary, and now boss.
"If he was 9 in 1947, he is 84 now. Expose this fraud, fellows."
See the old photograph of Tinubu and his alleged schoolmates below:
Alleged N4bn fraud: Fayemi speaks out about EFCC Investigations
Alleged N4bn fraud: Fayemi speaks out about EFCC Investigations
NaijaNews reports that the immediate past Governor of Ekiti State and former Chairman of the Nigerian Governors' Forum, Dr Kayode Fayemi, has refuted claims that he is under probe by the Economic and Financial Crimes Commission over an alleged N4bn fraud.
Fayemi, in a statement on Friday by the Head of the Fayemi Media Office, Abuja, Mallam Ahmad Sajoh, said during his visit to the EFCC, "no such allegation was raised during his conversation" with officials of the anti-graft agency.
The statement, however, noted that all Fayemi did during the conversation with the officials of the EFCC in Ilorin, Kwara State, was responding to a frivolous petition from a group that was trying to spoil his good name and image.
The statement read, "We would like to address the concerns surrounding the invitation and subsequent visit of Dr Kayode Fayemi, the immediate past governor of Ekiti State and former Chairman of the Nigerian Governors' Forum, to the Ilorin Zonal Office of the Economic and Financial Crimes Commission.
"Last month, Dr Fayemi received an invitation from the Ilorin office of the EFCC regarding a money laundering petition against him. It was during the height of the preparations for the change of government, with many activities and programmes lined up as part of the event.
"A key member of the APC, Dr Fayemi was already committed to playing important roles at these events and his non-appearance would have impacted them significantly. Understanding the significance of his commitments at that time, Dr Fayemi duly notified the EFCC of his willingness to cooperate but requested a more suitable date for his appearance."
The statement said, Fayemi, on Thursday, accompanied by his counsel, visited the EFCC office in Ilorin, and engaged in fruitful discussions with the investigators before being allowed to depart after a few hours.
It added, "We firmly believe that Dr Fayemi's visit has provided answers to the agency's inquiries regarding the petition.
However, should there be a need for further clarification, Dr Fayemi stands ready to cooperate fully.
"We wish to note, too, that contrary to the news that made the rounds about a purported N4b fraud case against Dr Fayemi, no such allegation was raised in his conversation with the EFCC.
"All he did was respond to a frivolous petition from a faceless group, the so-called Ekiti Patriotic Coalition, which we strongly believed is a front for some anti-Fayemi politicians, who are trying to soil the former governor's good name and image."
The statement said throughout Fayemi's tenure, he served the people of Ekiti State with utmost dedication and was renowned for his principled leadership.
"As governor, he consistently demonstrated a profound commitment to the welfare of the citizens, driving notable advancements in infrastructure development and attracting valuable investment opportunities to the state.
"We affirm that Dr Fayemi will continue to uphold the highest standards of integrity that he's known for, and we trust that the truth will prevail in due course," the statement said.
Breaking: PEPC Rejects Request for Live Coverage of Petitions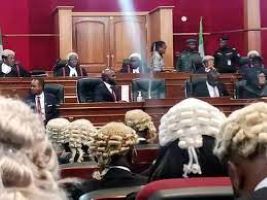 Breaking: PEPC Rejects Request for Live Coverage of Petitions
The Presidential Election Petition Court, PEPC, sitting in Abuja, on Monday, rejected request to allow its day-to-day proceedings on petitions seeking to nullify the outcome of the 2023 presidential election, to be televised.
NaijaNews reports that the Justice Haruna Tsammani-led five member panel dismissed as lacking in merit, the application which was brought before it by the two major candidates that are challenging the outcome of the presidential election that held on February 25.
The court held that no regulatory framework or policy direction, permitted it to grant such application.
It held that allowing cameras in the court room is a major judicial policy that must be supported by the law.
"The court can only be guided and act in accordance with the practice directions and procedures approved by the President of the Court of Appeal.
"We cannot permit a situation that may lead to dramatization of our proceedings," Justice Tsammani held.
Besides, the court held that the request was not part of any relief in the petitions before it, saying it was merely hinged on sentimental claim that it would benefit the electorates.
It maintained that the petitioners failed to establish how televising the proceedings would advance their case, adding that such live broadcast would not have any utilitarian value to add to the determination of the petitions.
Whereas it was a former Vice President and candidate of the Peoples Democratic Party, PDP, Alhaji Atiku Abubakar, who came second in the election, that initially made the request for a live coverage, subsequently, candidate of the Labour Party, Mr. Peter Obi, threw his weight behind the demand for live broadcast of proceedings of the court on the petitions.
The duo, through their lead lawyers, Chief Chris Uche, SAN, and Dr. Livy Uzoukwu, SAN, maintained that petitions they lodged to query the declaration of the candidate of the ruling All Progressives Congress, APC, Asiwaju Bola Tinubu, as winner of the election, was "a matter of monumental national concern and public interest".
They argued that the case involved the interest of citizens and electorates in the 36 States of the Federation and the Federal Capital Territory, Abuja, who he said voted and participated in the presidential poll.
Atiku and the PDP insisted that their case against Tinubu, being a unique electoral dispute with a peculiar constitutional dimension, they said it was a matter of public interest in which millions of Nigerian citizens and voters are stakeholders, with the constitutional right to be part of the proceedings.
They specifically applied for; "An order, directing the Court's Registry and the parties on modalities for admission of Media Practitioners and their Equipments into the courtroom".
"With the huge and tremendous technological advances and developments in Nigeria and beyond, including the current trend by this Honourable Court towards embracing electronic procedures, virtual hearing and electronic filing, a departure from the Rules to allow a regulated televising of the proceedings in this matter is in consonance with the maxim that justice must not only be done, but must be seen to be done.