Guber poll: Tension in Cross River, North and Central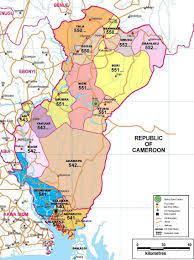 Guber poll: Tension in Cross River, North and Central
A good number of party supporters and suspected thugs are reported to have been arrested over political violence in the ongoing electioneering period in Cross River State. NaijaNews reports.
There have been reports of destruction of property belonging to opposing political camps in the state, as well as many physical attacks leading to deaths and hospitalization.
As of last week, the two leading political parties in the state paraded lists of key political dignitaries said to have been penciled in for elimination before the election date.
There are also reports of heavy militarization of the election, especially in the two senatorial districts.
Retired military and police officers are alleged to be arming illegal policemen and soldiers to intimidate opposing camps.
AIG Jonathan Towuru of Zone Six in Calabar had warned that they would use an iron fist to treat political miscreants during the elections.
At a news conference in Calabar, the chairman of the All Progressives Congress, APC, in Cross River State, Alphonsus Eba, said they are going to vehemently resist retired military and police officers from taking over and intimidating his members and voters.
He listed the names of very senior Air Force officers, including AVM Clement Okpeche and AIG Joseph Mbu, among others, claiming they allegedly sponsored detachments of soldiers and heavy guns to attack and intimidate APC members.
Eba claimed these had accounted for the reason they lost the Cross River North senatorial election to PDP, which they are challenging at the law court.
He alleged that the PDP members are masterminding violence.
"We are going to resist any attempts by a group of retired military personnel to militarize the gubernatorial election across the state.
"This time around, we are ready and prepared to rise against any forms of intimidation."
"I have written petitions to both the Inspector General of Police and Chief of Air Staff against their retired men for action," he said.
Responding, chairman of the PDP in the state, Venatius Ikem, rejected the allegation that his party and key leaders have been very violent.
Ikem said the APC chairman was crying out of frustration over his party's monumental loss.
"We are not violent like his party." They unleashed violence on us during the Senate primaries. We didn't respond, except by defeating them.
"They again unleashed violence on us during the House of Representatives by-elections for the Ogoja/Yala federal constituency elections. They enjoyed a pyrrhic victory for about 12 months, and then we went back to the drawing board, blocked all avenues for violence by mobilizing adequate security, and they were thoroughly beaten despite the incumbent governor being on the ballot. What else do you expect him to do besides cry?"
The PDP boss maintained that they are formidable in Cross River North.
Ikem went on to add that the PDP has the courage to stand up to unfavourable political seasons and knows how to work to change the tide.
He said they enjoy being abused by APC, saying their abuses spur them on to victory.
Also reacting, AIG Joseph Mbu (rtd) denied establishing and arming illegal police in his Abia community of Etung LGA in Cross River State.
Mbu said in an interview that as a very senior and retired police officer, he usually received even serving police officers from Abuja and elsewhere who stopped over to see him.
"As a result of my presence and contributions, my community is adjudged to be the safest place, so that you can forget a pin and still return to pick it up.
"My accusers are merely afraid because I stand for the truth and block many from cornering proceeds from community cocoa plantations," he added.
Cautioning against further bloodletting in parts of the state, a senior citizen and good governance advocate, Sir Nandi Peter Bette, raised the alarm over the tension, myriad of death threats, and fears of violence ahead of this weekend's governorship and House of Assembly elections.
The senior citizen cautioned against arming youths to eliminate local leaders.
Bette warned that all those fanning the embers of violence and bloodshed should desist or else they will not know peace.
"The alarm of impending violence being raised by political camps in the state over the forthcoming governorship and house of assembly elections are as irritating, repulsive, and shameful as they are," he stated.
He advised that elections should not and must not be a do-or-die affair, adding that there have been elections before this generation and there will still be elections after this generation.
"Whoever causes disturbances leading to bloodshed in the state during these elections will never know peace," he warned.
President Tinubu's "Real Age" is revealed by Charly Boy, who also shares an old document.
President Tinubu's "Real Age" is revealed by Charly Boy, who also shares an old document.
Nigerian socio-political activist and musician Charles Oputa, popularly known as Charly Boy, has taken to social media to share an old photograph supposedly including President Asiwaju Bola Ahmed Tinubu and his schoolmates.
Via his Twitter page, Charly Boy, who makes a mockery of the found document, asserted that Tinubu's real age should be 84 and not 71, as currently being claimed by the incumbent President of Nigeria.
The entertainer also took a swipe at former Minister of State for Labour and Employment, Festus Keyamo, saying the All Progressives Congress (APC) chieftain would be scratching his head on how to spin the narrative of the latest finding about his paymaster.
"Congratulations Nigeria. Hurray! It was a torturous journey, but praise God, his classmates have been found. The transmutation from Amoda Ogunkere Yekini to Bola Ahmed Tinubu was the issue.
"Now, I believe with this 'discovery', our learned Festus Keyamo will be scratching his head on how to re-spin the theory of homeschooling for his super-intelligent paymaster, former adversary, and now boss.
"If he was 9 in 1947, he is 84 now. Expose this fraud, fellows."
See the old photograph of Tinubu and his alleged schoolmates below:
Alleged N4bn fraud: Fayemi speaks out about EFCC Investigations
Alleged N4bn fraud: Fayemi speaks out about EFCC Investigations
NaijaNews reports that the immediate past Governor of Ekiti State and former Chairman of the Nigerian Governors' Forum, Dr Kayode Fayemi, has refuted claims that he is under probe by the Economic and Financial Crimes Commission over an alleged N4bn fraud.
Fayemi, in a statement on Friday by the Head of the Fayemi Media Office, Abuja, Mallam Ahmad Sajoh, said during his visit to the EFCC, "no such allegation was raised during his conversation" with officials of the anti-graft agency.
The statement, however, noted that all Fayemi did during the conversation with the officials of the EFCC in Ilorin, Kwara State, was responding to a frivolous petition from a group that was trying to spoil his good name and image.
The statement read, "We would like to address the concerns surrounding the invitation and subsequent visit of Dr Kayode Fayemi, the immediate past governor of Ekiti State and former Chairman of the Nigerian Governors' Forum, to the Ilorin Zonal Office of the Economic and Financial Crimes Commission.
"Last month, Dr Fayemi received an invitation from the Ilorin office of the EFCC regarding a money laundering petition against him. It was during the height of the preparations for the change of government, with many activities and programmes lined up as part of the event.
"A key member of the APC, Dr Fayemi was already committed to playing important roles at these events and his non-appearance would have impacted them significantly. Understanding the significance of his commitments at that time, Dr Fayemi duly notified the EFCC of his willingness to cooperate but requested a more suitable date for his appearance."
The statement said, Fayemi, on Thursday, accompanied by his counsel, visited the EFCC office in Ilorin, and engaged in fruitful discussions with the investigators before being allowed to depart after a few hours.
It added, "We firmly believe that Dr Fayemi's visit has provided answers to the agency's inquiries regarding the petition.
However, should there be a need for further clarification, Dr Fayemi stands ready to cooperate fully.
"We wish to note, too, that contrary to the news that made the rounds about a purported N4b fraud case against Dr Fayemi, no such allegation was raised in his conversation with the EFCC.
"All he did was respond to a frivolous petition from a faceless group, the so-called Ekiti Patriotic Coalition, which we strongly believed is a front for some anti-Fayemi politicians, who are trying to soil the former governor's good name and image."
The statement said throughout Fayemi's tenure, he served the people of Ekiti State with utmost dedication and was renowned for his principled leadership.
"As governor, he consistently demonstrated a profound commitment to the welfare of the citizens, driving notable advancements in infrastructure development and attracting valuable investment opportunities to the state.
"We affirm that Dr Fayemi will continue to uphold the highest standards of integrity that he's known for, and we trust that the truth will prevail in due course," the statement said.
Breaking: PEPC Rejects Request for Live Coverage of Petitions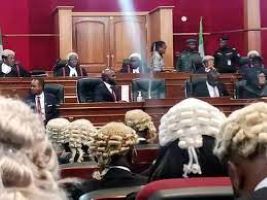 Breaking: PEPC Rejects Request for Live Coverage of Petitions
The Presidential Election Petition Court, PEPC, sitting in Abuja, on Monday, rejected request to allow its day-to-day proceedings on petitions seeking to nullify the outcome of the 2023 presidential election, to be televised.
NaijaNews reports that the Justice Haruna Tsammani-led five member panel dismissed as lacking in merit, the application which was brought before it by the two major candidates that are challenging the outcome of the presidential election that held on February 25.
The court held that no regulatory framework or policy direction, permitted it to grant such application.
It held that allowing cameras in the court room is a major judicial policy that must be supported by the law.
"The court can only be guided and act in accordance with the practice directions and procedures approved by the President of the Court of Appeal.
"We cannot permit a situation that may lead to dramatization of our proceedings," Justice Tsammani held.
Besides, the court held that the request was not part of any relief in the petitions before it, saying it was merely hinged on sentimental claim that it would benefit the electorates.
It maintained that the petitioners failed to establish how televising the proceedings would advance their case, adding that such live broadcast would not have any utilitarian value to add to the determination of the petitions.
Whereas it was a former Vice President and candidate of the Peoples Democratic Party, PDP, Alhaji Atiku Abubakar, who came second in the election, that initially made the request for a live coverage, subsequently, candidate of the Labour Party, Mr. Peter Obi, threw his weight behind the demand for live broadcast of proceedings of the court on the petitions.
The duo, through their lead lawyers, Chief Chris Uche, SAN, and Dr. Livy Uzoukwu, SAN, maintained that petitions they lodged to query the declaration of the candidate of the ruling All Progressives Congress, APC, Asiwaju Bola Tinubu, as winner of the election, was "a matter of monumental national concern and public interest".
They argued that the case involved the interest of citizens and electorates in the 36 States of the Federation and the Federal Capital Territory, Abuja, who he said voted and participated in the presidential poll.
Atiku and the PDP insisted that their case against Tinubu, being a unique electoral dispute with a peculiar constitutional dimension, they said it was a matter of public interest in which millions of Nigerian citizens and voters are stakeholders, with the constitutional right to be part of the proceedings.
They specifically applied for; "An order, directing the Court's Registry and the parties on modalities for admission of Media Practitioners and their Equipments into the courtroom".
"With the huge and tremendous technological advances and developments in Nigeria and beyond, including the current trend by this Honourable Court towards embracing electronic procedures, virtual hearing and electronic filing, a departure from the Rules to allow a regulated televising of the proceedings in this matter is in consonance with the maxim that justice must not only be done, but must be seen to be done.