NOVA MERCHANT BANK PLEDGES SUPPORT TO WOMEN EMBRACING TECHNOLOGY IN NIGERIA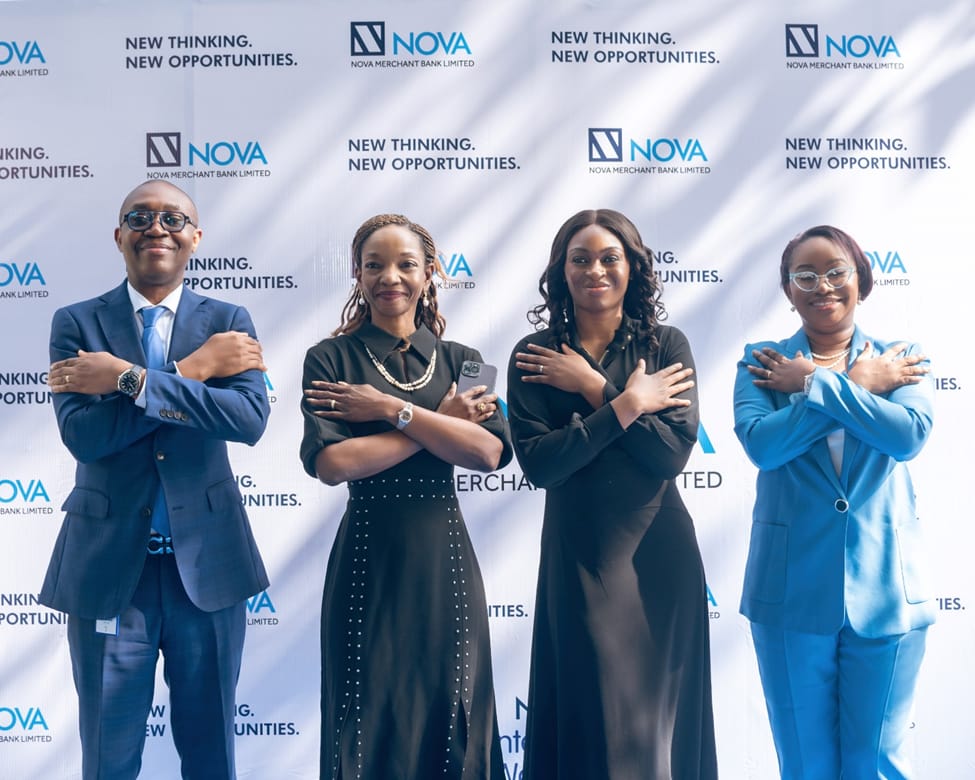 l-r: Managing Director/CEO NOVA Merchant Bank, Mr. Nath Ude; Managing Director/CEO, Digital Jewels Africa, Mrs. Adedoyin Odunfa; Founding partner, Healthcare Capital Africa (Healthcap), Dr Ola Brown; Executive Director, NOVA Merchant Bank, Mrs. Funke Okoya, during the 2023 NOVA International Women's Day (IWD) conference held at the Bank's headquarters in Lagos on Thursday
NOVA Merchant Bank, the leading Bank in Nigeria, has pledged to promote gender equality by supporting women who embrace technology skills, especially in our ever-evolving world.
This commitment was made during the 2023 NOVA International Women's Day (IWD) conference held recently, at the Bank's headquarters in Lagos.
The IWD conference is part of the Bank's women empowerment initiative which began in 2020, where women in NOVA converge to discuss gender equality issues and proffer solutions.
This year's event featured prominent women who have distinguished themselves in their industries by leveraging technology and innovative solutions to drive value in Nigeria and Africa in line with the global theme, DigitALL: Innovation and Technology for gender equality.
The Chief-Host and Executive Director of NOVA Merchant Bank, Mrs. Funke Okoya who welcomed participants at the conference, said, "Given the country's transition to cashless policy, NOVA believes that women can play a significant role in providing innovative ideas to capitalise on the benefits of this disruption by leveraging innovation and technology."
She added that NOVA will continue to push for the capacity development of women in Nigeria in tech and drive initiatives that advance women's cause.
The Chief Information Officer, NOVA Merchant Bank, Mrs Mabel Irona-Nduka, reiterated the Bank's stance on female empowerment, adding, "NOVA will continue to lead the many voices committed to women empowerment by making deliberate efforts to close the gender gap in traditionally male dominated roles like information Technology and most especially, at leadership levels.
Guest Speaker at the event, Dr Ola Brown who is the Founding Partner, Health Cap Africa said, "Having tech savvy women in leadership roles means making more profits especially in a hyper-competitive industry such as banking where we must leverage and utilize all legitimate and innovative alternatives to optimize profit irrespective of gender, and this is where embracing equity is important."
Brown emphasised the need for women to believe in themselves as competent enough to advocate for quotas in all areas, including technology, politics, and their careers.
In her own submission, the Managing Director/CEO, Digital Jewels Africa, Mrs, Adedoyin Odunfa who spoke on protecting the rights of women and girls in the digital space, said, "50 percent of women online have suffered some form of online violence and harassment from the responses and nuances." She noted that it is critical to teach women and girls digital skills and how to deal with online violence, and also put policies in place to protect women's rights in the digital space.
NOVA Merchant Bank Limited is an investment grade rated bank in Nigeria that offers an integrated suite of financial solutions covering Financial Intermediation, Corporate and Investment Banking, Asset, and Securities Management, Trade Services, Cash Management, Transaction, and Digital Banking.
Favour Benson Urges Government To Make Provision For Children To Enable Them to Compete At World Stage
Favour Benson Urges Government To Make Provision For Children To Enable Them to Compete At World Stage
In commemoration of the 2023 Children's Day, the Managing Director of Touching Heart Foundation, Favour Benson, has urged the government to make provisions towards the development of children to enable them to compete on the world stage.
The theme for the 2023 Children's Day is "Investing in our future means investing in our children". The present dispensation has not fared too well in the area of investing in our children.
In her thought, children are the future of any great society and should be nurtured and prepared for the task ahead.
" Looking at the theme of this year's children's day 'Investing in our future means investing in our children' it is important that the parent nurture the children to set them in the right part of the future they deserve, the society is now giving a wrong ideology about life but it is our duty to train the children in the right path by becoming the best role models they can have." She said
She also retraited the need for the government to provide the basic infrastructural development for children to enable them to compite with counterparts in the world stage.
" The government should provide endeavour look into children development policies that will help project the children into the future. Looking at countries like China and other, Nigeria should start thinking on how to direct the children's interest towards technology and brain developing activities." She concluded.
Children's Day, which is celebrated in Nigeria on May 27 annually, is dedicated to celebrating children all over the world and for adults to remember their childhood experiences. The excitement of the day is palpable as it's a special day to recognize, honour, celebrate, and appreciate children.
World Children's Day was first established in 1954 as Universal Children's Day and is celebrated on 20 November each year to promote international togetherness, awareness among children worldwide, and improving children's welfare.
World Water Day: Viju Industries Promises Healthier Products As UN Seeks To Solve Water And Sanitation Crisis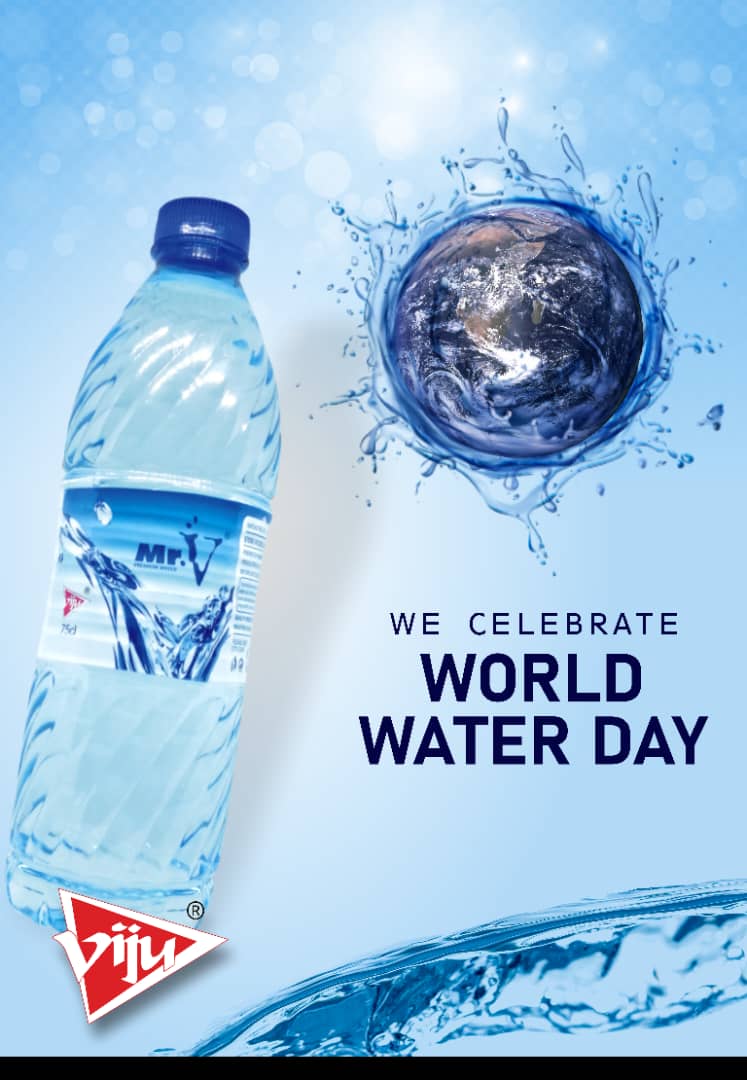 In commemoration of 2023 World Water Day, Nigeria's leading FMCG companies, Viju Industries Nigeria Limited have promised their customers healthier products as the United Nations seeks to solve water and sanitation crisis around the world to celebrate the world water day.
World Water Day is an annual United Nations observance day held on 22 March that highlights the importance of fresh water. The day is used to advocate for the sustainable management of freshwater resources.
Naijanewsngr reports that this year, the focus of the UN observance is on accelerating change to solve the water and sanitation crisis. The global campaign, called Be the change, encourages people to take action in their own lives to change the way they use, consume and manage water.
According to Viju Industries,  World Water Day should go beyond creating awareness in the media or storytelling, there is an urgent need for something drastic to be done to bring about sustainable change in realizing the United Nation's targets of Sustainable Development Goal 6, SDG6 as Life without water is impossible.
"Life without water is impossible, As a company, whose water needs for its operations can't be overemphasized, we need to be socially responsible in curbing water wastage."

As we all know water is life, the onus falls on us not to waste 'this life'. Therefore, it is one of our company's policies to ensure that effective management of water is taken as a priority. And we ensure that our workforce is adequately enlightened on this," the firm explained.
Viju Industries Nigeria Limited also revealed it came up with the 'Save Water Today' campaign and plans to take the awareness to markets, schools, and institutions to gain more traction using Mr. V Premium Water, a brand that has shown a strong commitment to water conservation and protection, making it a great choice for celebrating World Water Day.
Mr. V Premium Water is an excellent choice for World Water Day celebrations, and how the brand is working to protect this valuable resource.
Mr. V Premium Water is committed to sustainable water use in its production processes.
"Our intention as a socially responsible company is to inspire people in Nigeria to learn more about water-related issues and to take action to make a difference. Not only on water conservation but on other issues like water scarcity, water pollution, inadequate water supply, lack of sanitation, and the impacts of climate change," the firm submitted.
The company sources its water naturally, which are carefully monitored to ensure they are not overused or depleted. The water is also treated using state-of-the-art technology to remove impurities with reverse osmosis and ensure it is safe for consumption.
Mr. V Premium Water is an excellent choice for celebrating World Water Day. The brand's commitment to sustainable production practices, water conservation and protection efforts, and consumer education make it a leader in the water industry.
"By supporting brands like Mr. V Premium Water, we can all do our part to protect this valuable resource and ensure that it is available for future generations", the firm concluded.
FAKE! Emefiele Debunks News Of His Plot Against President-Elect Tinubu
Naijanewsngr reports that the attention of the Central Bank of Nigeria (CBN) has been drawn to a story published in The Nation newspaper on Monday, March 13, 2023 edition, alleging that the Governor, Mr. Godwin has launched a "fresh plot against President-elect".
The aforementioned story went further to allege that the Governor has made a certain amount of money available to a political aspirant ahead of March 18, 2023, gubernatorial poll.
We wish to inform members of the public that this story is completely false and malicious as the Governor does not know and has never met or even spoken with Mr. Gbadebo Rhodes Vivour either in person or through proxy.
We wish to reiterate that the CBN Governor does not take part in Politics and therefore urge anyone with contrary information to prove the Governor wrong should provide such facts.
As such the Governor and team at the CBN should be allowed to focus on their assigned job with a view to achieving the statutory mandates of the Bank.