NOVA MERCHANT BANK PLEDGES SUPPORT TO WOMEN EMBRACING TECHNOLOGY IN NIGERIA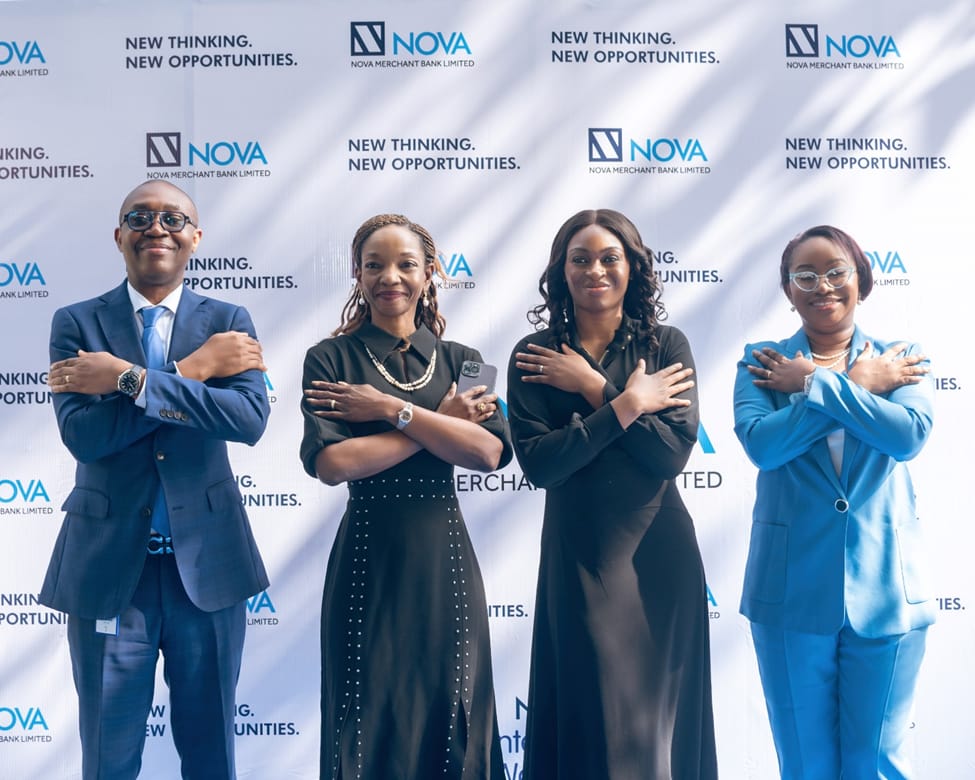 l-r: Managing Director/CEO NOVA Merchant Bank, Mr. Nath Ude; Managing Director/CEO, Digital Jewels Africa, Mrs. Adedoyin Odunfa; Founding partner, Healthcare Capital Africa (Healthcap), Dr Ola Brown; Executive Director, NOVA Merchant Bank, Mrs. Funke Okoya, during the 2023 NOVA International Women's Day (IWD) conference held at the Bank's headquarters in Lagos on Thursday
NOVA Merchant Bank, the leading Bank in Nigeria, has pledged to promote gender equality by supporting women who embrace technology skills, especially in our ever-evolving world.
This commitment was made during the 2023 NOVA International Women's Day (IWD) conference held recently, at the Bank's headquarters in Lagos.
The IWD conference is part of the Bank's women empowerment initiative which began in 2020, where women in NOVA converge to discuss gender equality issues and proffer solutions.
This year's event featured prominent women who have distinguished themselves in their industries by leveraging technology and innovative solutions to drive value in Nigeria and Africa in line with the global theme, DigitALL: Innovation and Technology for gender equality.
The Chief-Host and Executive Director of NOVA Merchant Bank, Mrs. Funke Okoya who welcomed participants at the conference, said, "Given the country's transition to cashless policy, NOVA believes that women can play a significant role in providing innovative ideas to capitalise on the benefits of this disruption by leveraging innovation and technology."
She added that NOVA will continue to push for the capacity development of women in Nigeria in tech and drive initiatives that advance women's cause.
The Chief Information Officer, NOVA Merchant Bank, Mrs Mabel Irona-Nduka, reiterated the Bank's stance on female empowerment, adding, "NOVA will continue to lead the many voices committed to women empowerment by making deliberate efforts to close the gender gap in traditionally male dominated roles like information Technology and most especially, at leadership levels.
Guest Speaker at the event, Dr Ola Brown who is the Founding Partner, Health Cap Africa said, "Having tech savvy women in leadership roles means making more profits especially in a hyper-competitive industry such as banking where we must leverage and utilize all legitimate and innovative alternatives to optimize profit irrespective of gender, and this is where embracing equity is important."
Brown emphasised the need for women to believe in themselves as competent enough to advocate for quotas in all areas, including technology, politics, and their careers.
In her own submission, the Managing Director/CEO, Digital Jewels Africa, Mrs, Adedoyin Odunfa who spoke on protecting the rights of women and girls in the digital space, said, "50 percent of women online have suffered some form of online violence and harassment from the responses and nuances." She noted that it is critical to teach women and girls digital skills and how to deal with online violence, and also put policies in place to protect women's rights in the digital space.
NOVA Merchant Bank Limited is an investment grade rated bank in Nigeria that offers an integrated suite of financial solutions covering Financial Intermediation, Corporate and Investment Banking, Asset, and Securities Management, Trade Services, Cash Management, Transaction, and Digital Banking.
AKMODEL Homes And Properties To Launch Mega Double Estate
AKMODEL homes and properties is set to launch the Mega Double Estate tagged: "Unveiling the Box of Your Luxury", which is to be marked with allocation of lands to its partners and customers.
According to AKMODEL Homes and Properties, this event is one that will come with many exciting surprises as the company will unveil two estates in the Ibeju Lekki area in Lagos State.
AKMODEL Homes and Properties specifically invites everyone to witness luxury like never before in the "Mega Double Estate Launch and Physical Allocation" which will be held on Saturday, September 30, 2023.
Naijanewsngr reports that the company have provided mobility for those who are willing to be part of this exciting moment in the event.
Pickup Time: 8:00am Prompt
Pickup Points
Mainland: Old Mobil Filling Station, Gbagada, Lagos.
Island: Km 38, Suite 13 & 14, Beto Mall, Opposite Corona School, Abijo G.R.A, Lekki-Epe Expressway, Lagos
For more information, please call or text 08130084891 or 08034995020.
Akmodel Homes And Properties Akmar Hilltop Awka Branch First Allocation
Akmodel Group is in the news again for doing what they know best to do, which is keeping to their words concerning allocation.
The first ever allocation took place in Akmar Hilltop Estate, Enugu Ezinato Agidi Community, Njikoka local government Akwa in Anambra State where their respective clients who have fully paid took possession of their lands.
The Managing Director of Akmodel Group, Bldr (Dr.) Abdulhakeem Odegade alongside the company's Surveyor, Mr Eke Kingsley, Akmodel branch manager Akwa, Miss Nneka Jessica and not leaving out the realtors that came from Enugu, Onitsha, Owerri etc was on ground to present the plots and documents to them.
The smart investors are Mr. Onyebuchi & Mrs Chioma Onua & their plot nos are 18, 19, 26 and 27 while Obi Okwuchukwu Christian plot nos are 7 and 8.
They are the latest landowners through the company and they were all excited and happy because there was no stories, no hidden charges, nor delay in allocating them their due land, for this and many more, they felt fulfilled and their dreams come true.
Also, the MD of Akmodel Group, Bldr (Dr) Odegade Abdulhakeem and his team paid a courtesy visit to the Igwe Izuchukwu Okeke Onyeocha, Igwe Ezinato Enugwu Agidi Anambra State ( Where the company has there Akmar Hilltop Estate).
The M.D reaffirmed as always that real estate is the business to invest into anytime and at Akmodel Group, integrity is our watch word. 
SOLIN MEDIA
Viju Milk Drink exemplifies the spirit of World Milk Day by promoting the consumption of milk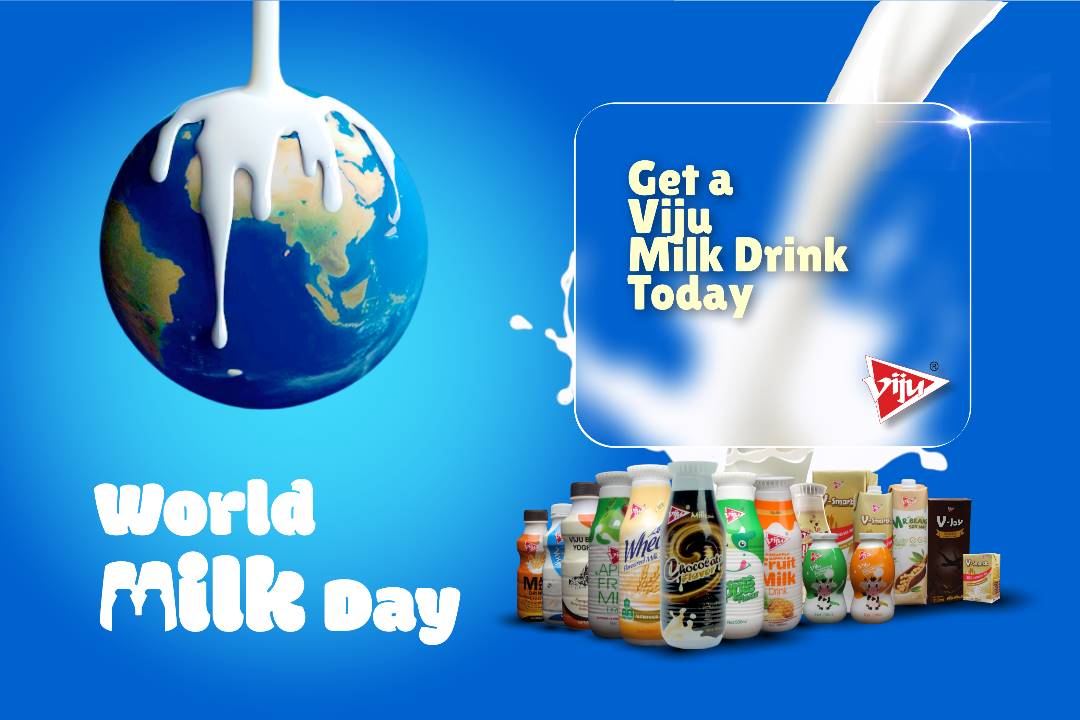 Viju Milk Drink exemplifies the spirit of World Milk Day by promoting the consumption of milk
In commemoration of World Milk Day 2023, Viju Milk Drink exemplifies the spirit by promoting the consumption of milk and dairy products with its milk products that can be found everywhere in Nigeria.
World Milk Day with the theme, "Sustainable Dairy: Good for Planet, Good for You" was introduced in 2001 by the Food and Agriculture Organisation of the United Nations (FAO) to recognize the importance of milk as a global food, and to celebrate the dairy sector.
Speaking to Mark the Day in Lagos, the Brand Manager of Viju Milk, Mr. Raphael Osiomwan urged customers to embrace the nourishing goodness of Viju Milk Drink and recognize its contribution to a healthier and more vibrant global community.
"As we celebrate World Milk Day, let us embrace the nourishing goodness of Viju Milk Drink and recognize its contribution to a healthier and more vibrant global community. With its exceptional taste, nutritional benefits, and commitment to sustainability and social impact. Viju Milk Drink exemplifies the spirit of World Milk Day by promoting the consumption of milk and dairy products. Join us in raising a glass of Viju Milk Drink and celebrating the power of milk to enrich our lives with its wholesome goodness." He said.
World Milk Day aims to globally promote the legacy of milk and allied products. It also focuses on highlighting the impact of the dairy industry on the environment.
This day was established by the Food and Agricultural Organisation (FAO) of the United Nations in 2001.